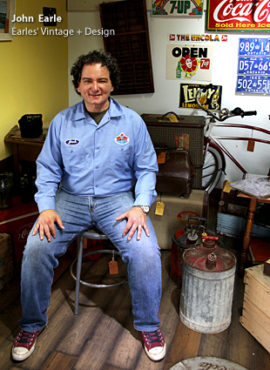 Earle's Vintage + Design Opens In Downtown Cornwall
September 25, 2014
Cornwall Ontario – John Earle has had a passion for antiques for over 3 decades. One day many years ago, his father brought home an old telephone, and 6-year old lad was hooked.
"Over the years my interest expanded into other antiques and heritage," says Mr. Earle, a well-known local filmmaker.  "I would pick up items as I came across them, and recently it occurred to me that my collection was perhaps a bit large."
Mr. Earle has opened a new store in Downtown Cornwall.  Earles' Vintage + Design is located at 103/4Fourth Street East and is open on Saturdays. Mr. Earle is holding a grand opening this Saturday September 27.
"The shop is filling up quite nicely for our event on Saturday. Love Love Food is making us some treats, and it will be great to see everyone!"
Although the shop is small, it is filled with treasures from the local area and beyond. Mr. Earle is a long time supporter of the Lost Villages and local artists. An avid diver, he recently gave a presentation on his discoveries while diving in the St. Lawrence River.
One of the most striking pieces for sale at Earles' Vintage + Design is a bench made from a piece of a wooden keel. Mr. Earle has since refinished it into a unique piece of furniture.
"It is important to celebrate our heritage and at the same time recognize the beauty and craftsmanship of items from our past."
Other items for sale include toys made after the war in occupied Japan, postcards, Coca-Cola and 7-UP tin signs, a rare Andy Warhol book and other collectibles – including more than one vintage telephone. Mr. Earle also has a number of local heritage books for sale, including a book on the historic Kyte store that was written by his mother, Joan Levy Earle.
As with most antique stores, stock is constantly in flux as goods leave with happy customers and more vintage pieces are acquired.
"People have been calling me up and giving me tips on where I might find new treasures," said Mr. Earle. "This is turning out to be a fun adventure where we rescue lost and forgotten treasures from attics and basements and give others a chance to enjoy them."
You can find Earles' Vintage + Design online: