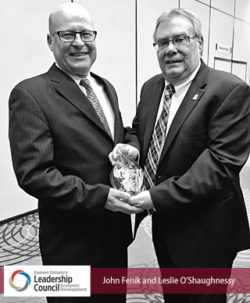 Eastern Ontario Leadership Council Recognized with Award
February 9, 2018
Cornwall Ontario -The Eastern Ontario Leadership Council (EOLC), a multi-organization partnership tasked with advancing regional economic development opportunities, was recognized with an important award during the annual Economic Developers' Council of Ontario Conference in Toronto this week.
The EOLC consists of five major partners: the Eastern Ontario Wardens' Caucus, the Eastern Ontario Mayors' Caucus, the Eastern Ontario Regional Network, the Ontario East Economic Development Commission, and Community Futures Ontario East. Through three working groups – workforce, technology/innovation, and transportation – the EOLC is implementing its 2014 regional economic development strategy, designed to tackle issues regarding the economic performance of the region, and pursue opportunities to maintain and enhance the region's economic prosperity.
The EOLC was honoured with the Collaboration & Partnership Award in the category of "Regional and Cross-Border Collaboration" representing populations of 250,000 and greater.
"The Eastern Ontario Leadership Council is a unique organization in Ontario, founded on the principle of promoting regional economic development in collaboration with the many municipalities and stakeholders across our entire region," said EOLC Co-Chair Leslie O'Shaughnessy, Mayor of the City of Cornwall. "Our territory includes more than 110 municipalities, which together represent about 1.2 million residents,"
For an organization whose work began less than three years ago, this is an important recognition that the EOLC's collaborative regional model is a progressive step forward in the field of economic development.
"We are extremely proud of the work being done at a regional level, which has recently attracted the attention of the provincial Ministry of Economic Development and Growth," added EOLC Co-Chair John Fenik, Warden of the County of Lanark. "In the near future, Eastern Ontario's inclusive and collaborative model for economic development could become a model for other regions."
"The EOLC is extremely eager to continue its work, for the benefit of our region and for economic development everywhere."
Categorised in: Business