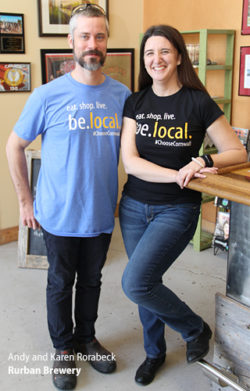 Eat.Shop.Live.Be.Local. New T-Shirts Celebrate Cornwall
November 8, 2017
Cornwall Ontario – Now you can wear your support for the local economy.
New t-shirts have hit the streets celebrating living in Cornwall. Emblazoned with the slogan 'Eat. Shop. Live. Be. Local.', the shirts are meant to drive home the importance of being involved in your community.
"We sometimes take for granted just how fortunate we are to live in Cornwall, " said Todd Lihou, Centretown Coordinator. "We have the convenience of having great restaurants and great shopping run by caring people who give back to the community in dozens of ways."
Lezlie Strasser, executive manager with the Cornwall and Area Chamber of Commerce, echoed Lihou' s sentiment.
"It's a great example of the community pulling together to focus on the benefits of shopping local," she said. "We are looking forward to the benefits of a successful holiday shopping season."
The t-shirts are a quality cotton shirt and are available in a number of sizes, for men and women. The shirts were printed locally by Mike's Printing and Apparel.
T-Shirt Giveaway
Two t-shirts will be given away weekly to people who choose to dine, shop or be active in Cornwall. In order to enter the draw, people can simply snap a selfie enjoying a meal in a local restaurant, shopping at a local store, visiting the library or enjoying a sporting activity.Photos can be shared on the We Shop in Cornwall Facebook page, or via Twitter using the hashtag #ChooseCornwall.
T-Shirts for Sale
T-Shirts can also be purchased at the Chamber of Commerce at 113 Second Street East for $20. Additional locations will be added in the coming days.
The initiative is being supported by a number of organizations, including the Chamber of Commerce, Le Village and Downtown Business Improvement Areas and Cornwall Economic Development.
You can track the campaign on Facebook:
Categorised in: Business