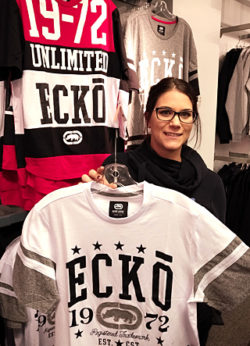 Ecko Unlimited Opens in Cornwall Square
March 21, 2018
Cornwall Ontario – Cornwall Square has a new tenant – Ecko Unlimited.
The popular fashion retailer opened its doors today, featuring an opening sale of 30-70% of the entire store.
Ecko Unlimited is an American urban fashion company founded by Marc Ecko in 1993 with just six t-shirt designs and a can of spray paint. Featuring a rhino as its iconic logo, the company morphed into a full-scale apparel and lifestyle company whose products have been popular since the late 1990s.
Ecko Unlimited was originally associated with hip-hop and skating culture, and moved into the mainstream urban culture in the early 2000s.
The new store is located on the main level of the mall beside The Children's Place and offers over 3500 sq.ft. of retail space.
"It is always nice to welcome a new retailer to Cornwall Square," says Karen Burns, Retail Manager with Cornwall Square. "We are especially happy to see a new fashion retailer in the mall, especially one that markets to a young demographic."
The Cornwall store  carries fashion and accessories featuring the Ecko Unlimited, Headrush and Avirex brands.
Consumers can choose from a diverse lineup of jackets, t-shirts, hoodies for both men and women.  Accessories include shoes, hats, bags and leather goods.
Ecko Unlimited joins other new retailers to located in Cornwall Square, including Labels, DavidsTEA and Dollarama. Mall officials continue to market the mall to attract new retailers.
In related news, work is continuing on the installation of new escalators in Cornwall Square and is expected to be completed soon.
About Cornwall Square
Cornwall Square is the largest enclosed mall in the Cornwall region. Featuring over 60 retailers and restaurants, the mall overlooks Lamoureux Park and the St. Lawrence River in Downtown Cornwall.
Categorised in: Business