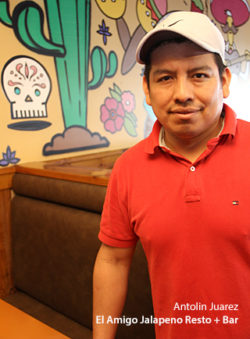 El Amigo Jalapeno Restaurant Adds Spice to Le Village
March 23, 2018
Cornwall Ontario – Ten years ago, Antolin Juarez and Carmen Espinoza moved to Cornwall from Veracruz, Mexico. Their dream was to one day open a Mexican restaurant to share the love of their culture with their community.
That dream has now become a reality.
El Amigo Jalapeno Resto + Bar is now open on Montreal Road, across from Cornwall's Port Theater.
Decorated with a colorful Mexican themed interior, El Amigo Jalapeno offers a full line up of authentic Mexican cuisine, including tacos, fahitas, burritos and more. Main courses are serviced with a complimentary bowl of taco ships and salsa.
"Each day we prepare our salsa and guacamole, so that we can provide a fresh and genuine experience," explains Mr. Juarez.
The restaurant was named by Antolin's mother. They wanted something easy and friendly that paid homage to their Mexican roots. El Amigo, meaning friends, fit perfectly with the idea of the restaurant – a place where people can come sit, talk, have a drink and make friends.
El Amigo Jalapeno has room for 74 people indoors plus another 28 on the patio during the warm summer months.
With live music at least once a week, and a family run staff, El Amigo hopes to offer the type of food, atmosphere and experience that adds up to an bona fide Mexican experience.
"It's our pleasure to serve you, anything is possible in Mexico," says Mr. Juarez.
The addition of El Amigo Jalapeno is another sign that the Le Village district continues to evolve. The Port Theater across the street has been renovated, and several nearby property owners have taken advantage of the Heart of the City community improvement program. New condominiums at the nearby historic Cotton Mills are bringing new residents to the area as well.
El Amigo Jalapeno
El Amigo Jalapeno is located at 101 Montreal Road and is open Monday through Sunday 11am – 10pm, with the kitchen closing at 9pm.

613-932-2000
Categorised in: Business