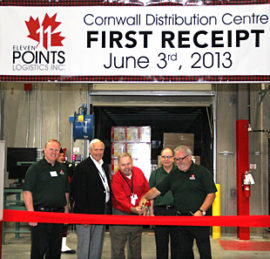 Eleven Points Logistics Receives First Shipment in Cornwall
June 7, 2013
Cornwall Ontario – Eleven Points Logistics received its first shipment in Cornwall this week, and the ceremony was marked by the presence of officials from Target Canada and the City of Cornwall.
It was the first official "receipt" of goods that will eventually find its way from Cornwall to new Target stores as they open across Eastern Ontario, Quebec and the Maritimes.
"It was less than two years ago that I stood on this site which was then just a field and trees so it's very exciting to see how much we have achieved in such a short period of time," said Tom Shaw, Vice-President of Distribution of Target Canada. "Cornwall is a fantastic community and we are thrilled to be opening a distribution centre in such a vibrant community. We looked at a number of factors when selecting the site for our Eastern Canada Distribution Centre and the decision to locate in Cornwall was an easy one. "
Mr. Shaw was joined at the event by the Vice-President of Eleven Points Logistics Ewen McIlraith.
"Eleven Points Logistics has assembled a great team here in Cornwall, and we are excited to help Target launch its brand in Canada," said Mr. McIlraith.
The Cornwall distribution centre is 1.4 million square feet and sits on 169 acres. Racks tower over 30 feet in the air and the building is well served by over 200 dock level doors. The building is large enough that one could lay the CN Tower inside the building and not touch the east or west walls.
Target purchased the land from the City of Cornwall in August 2011 and contractor Broccolini began construction. The building structure was fully enclosed 5 months later, an incredible accomplishment aided by local contractors Cornwall Gravel and Laplante Welding. The City of Cornwall built a new road and extended services to accommodate the facility.
"It is an investment that we would make again and again, as it will have a positive impact on the long term prosperity of our citizens," said Mayor Bob Kilger. "This is a very important milestone for Cornwall, and I thank Target and Eleven Points Logistics for sharing it with us."
Dozens of newly hired associates were on hand to witness the ceremonial "first receipt" and added a lot of energy to the event.
"This is a state of the art distribution centre, with the very latest in technology and systems," noted Alan La Barge, General Manager of the Cornwall facility. "We like to take care of our associates and offer them good jobs with competitive wages and a pension plan. We've had very positive feedback from our associates and look forward to growing our team."
Eleven Points Logistics continues to hire staff for a variety of positions as it builds its workforce. For more information on working at the Cornwall Distribution Centre, please visit www.EPLjobs.ca.
Eleven Points Logistics is also featured in the new edition of Cornwall Living magazine. You can order your complimentary copy by clicking here.