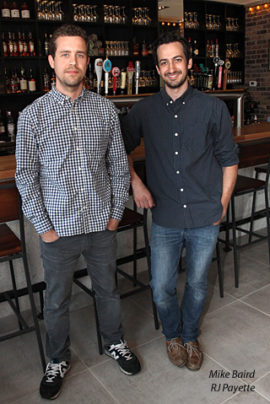 Esca Adds New Flavour To Downtown Eating Scene
July 9, 2015
Cornwall Ontario – Cornwall is famous for its pizza, and a new restaurant is looking to add to the legend.
Esca Gourmet Pizza + Bar is now open on Pitt Street, and local residents are anxious to see what the new eatery has to offer.
"The word pizza is in our name, so we knew we had to get it right," says co-owner Mike Baird. "While we're offering a variety of other entrees and starters, which we're really proud of, our pizza is the star of the show!"
Esca will offer a full line up of drink choices to help their patrons wash down that pizza. The owners want to introduce alternative tastes that may be new to some people.
"As beer enthusiasts, we've taken great care in selecting our offerings – especially our line-up of Ontario craft beer," says R.J. Payette. "We've also got a great selection of wine and whiskey and a cocktail menu which we're excited about."
The new restaurant features a strikingly attractive modern interior that can accommodate 104 guests, while an outdoor patio can welcome another 48.
Mr. Baird and his brother-in-law R.J. Payette engaged Bourgon Construction to undertake renovations to the two-storey building which formerly housed an LCBO store. The cost of the renovations were offset in part by funding from the City of Cornwall's Heart of the City Community Improvement Program.
After several months of planning and renovations, the owners are anxious to open the doors to the public.
"We want to offer the type of food, atmosphere, and customer service that add up to an exceptional dining experience," says Mr. Baird. "We're so proud of our menu, and we've hired amazing kitchen and wait staff to prepare and present it to our guests."
Esca plans to feature local foods from throughout Cornwall & the Counties.
"Some of our local suppliers will be Smart Greens, Cardinal & Son, The Avonmore Berry Farm, The Glengarry Fine Cheese Factory, and Beau's All Natural," says Mr. Baird. "We're also hoping to soon carry craft beer from Cornwall's own Rurban Brewing."
The name of the restaurant was taken from the Latin noun "esca" meaning "food", yet the word in Gaelic also means "river" which the owners liked as the restaurant is only three short blocks from the St. Lawrence River.
"We're lifelong residents of Cornwall, we love it here," says Mr. Baird. "Downtown is becoming more and more vibrant, and the opportunity to participate in, and contribute to that is something we're really looking forward to."
"Cornwall is a beautiful riverside town – a great place to live, plain and simple," adds Mr. Payette. "It's an easy drive from Ottawa and Montreal, and we look forward to hosting visitors from throughout the region."
Esca is located at 317 Pitt Street and is open Monday through Wednesday from 11:30 am until 9:00 pm. They will stay open later on Thursday to Saturday. As time progresses, Esca will look to host a variety of different groups and special events.
You can find Esca Gourmet Pizza + Bar online here: