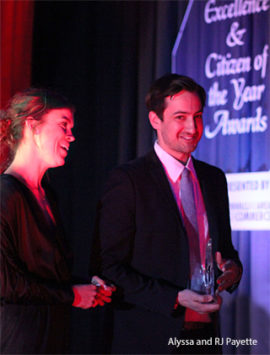 ESCA Gourmet Pizza Named Entrepreneur of the Year
February 25, 2016
Cornwall Ontario – Young entrepreneurs Mike Baird and RJ Payette, along with their spouses Melanie Lapointe and Alyssa Payette had a dream of owning their own restaturant one day. And when a number of events coincided, it created the perfect opportunity to take the plunge and make the dream a reality.
The two friends (and brothers-in-law) were able to secure the former LCBO store on Pitt Street and with a location in place, it was time to enact their strategy of creating a unique urban dining experience in the heart of Cornwall.
Their efforts were recognized by the Cornwall Chamber of Commerce who named ESCA Gourmet Pizza the 2015 Entrepreneur of the Year.
Since opening in July 2015, ESCA Gourmet Pizza has quickly become one of Cornwall's most popular eateries. The restaurant features a attractive modern interior that can accommodate 104 guests,  with an outdoor patio that can welcome another 48.
ESCA also features a cozy bar that is well stocked with fine wine, quality spirits and craft beer. It was the first restaurant to offer a tap to Rurban Brewery, Cornwall's very own micro brewery.
"We wanted the experience to be unique, and quite different from the large chain restaurants," says RJ Payette. "That extends to our bar offerings. Quality and taste will always make the difference. "
Esca is located at 317 Pitt Street and is open Monday through Wednesday from 11:30 am until 9:00 pm. They will stay open later on Thursday to Saturday. As time progresses, Esca will look to host a variety of different groups and special events.
You can find Esca Gourmet Pizza + Bar online here:
Business Excellence Awards & Citizen of the Year
The Chamber of Commerce Business Excellence Awards is a distinguished Cornwall tradition established in 1988. The Awards recognize outstanding achievements by Cornwall area businesses and individuals in the fields of commerce, community work and/or innovation. The awards ceremony, coupled with the presentation of the coveted Citizen of Year award is one of Cornwall's most prestigious annual affairs.
For more info on past winners, follow this link:
Categorised in: Business