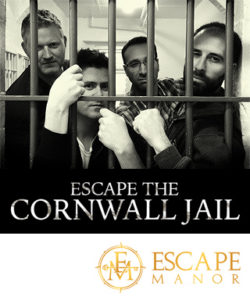 Escape the Cornwall Jail
April 4, 2017
Cornwall Ontario – The youthful team behind Canada's fastest growing escape room company, 'Escape Manor', recently spent a night behind bars at the Cornwall Jail.
The four business partners (also best friends) from Ottawa were in town to create their latest experience, Escape the Cornwall Jail. They decided to get a real feel for the 165-year-old prison by sleeping in the actual prison cells. After lots of laughs and little sleep, the boys were up and back at it creating their most interactive and immersive escape experience yet.
"Having recreated a prison cell as one of our first (and most popular) rooms back in 2014, we jumped at the chance to lock folks up in a real physical jail," said Steve Wilson, Co-Owner of Escape Manor. "Visiting the historic facility gave us all goosebumps. Imagining that feeling of confinement coupled with the excitement and exhilaration of an escape makes us giddy with excitement."
An escape room is a popular adventure game in which players are locked in a room and have to use elements of the room to solve a series of puzzles and escape within a set time limit.
Escape the Cornwall Jail takes place in the (still functioning) courthouse, the Warden's private quarters, and the Historic Cornwall Jail – all located in Downtown Cornwall on Water Street. itself. Incorporating history of the very storied facility, the escape scenario will play off of the true story of the Fenians escape from the jail in 1867.
The one hour escape experience features live actors and will run Thursdays through Sundays, starting May 11th until November.
"Escape rooms have become very popular tourist attractions worldwide and the Historic SDG Jail is the perfect location for participants to experience what it is like to be locked up behind bars in an authentic jail cell", said Shauna Baggs, SDG Tourism Coordinator.  "We are hoping this new initiative will encourage participants to enjoy other SDG attractions."
About the Cornwall Jail
Built in 1833 on the site of an army barracks used during the war of 1812, the Jail operated until 2002 when the Ministry of Correctional Services closed the facility in favour of newer, larger facilities in major cities. The cell blocks, common areas, exercise yard and visitation area have been maintained as they were when they were populated by inmates sentenced to jail time.
The Jail is located at 11 Water Street West and is part of the main administrative complex for the Unitied Counties of Stormont Dundas and Glengarry. Over the past several years, the Jail has become a popular tourist attraction.
About Escape Manor
Escape Manor is Canada's premiere adventure and team-building company, and is listed on Trip Advisor's list of the top 10 escape rooms in Ontario.  Known for distinctively-themed and challenging escape rooms and passionate and talented staff, Escape Manor has enjoyed symbiotic successes in partnering with museums and historic facilities in Ottawa, Regina and now Cornwall.
Categorised in: Business