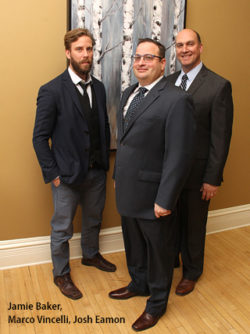 EVB Engineering Establishes in Downtown Cornwall
April 25, 2017
Cornwall Ontario –  Three well respected local professionals have joined together to open EVB Engineering.
Josh Eamon, Marco Vincelli and Jamie Baker are the principals of the new firm which has  offices on the top floor of  a renovated heritage building at 208 Pitt Street.
"We have assembled a top-notch team and are excited to offer unparalleled engineering services to our clients," says Mr. Eamon.  "We have had the experience of working for a large international engineering firm, and have learned first hand that bigger doesn't mean better."
EVB Engineering offers a full range of civil and environmental engineering services to municipal and private clients in Cornwall and Eastern Ontario.  This includes the design and contract administration of roads, watermains, sewers, pumping stations, water and wastewater treatment systems, environmental assessments, infrastructure condition assessments and asset management documentation.  The three founding partners of EVB Engineering have over 52 years of combined experience providing engineering services to municipal and private clients in Ontario and across the country.
"The time was right to shed the burden of large corporate bureaucracy so that we can focus on the needs of our clients," says Mr. Vincelli.  "We value the relationships we have developed with our clients and wish to continue to provide the highest level of service while supporting the activities in our local economy."
The three engineers have worked together since Mr. Baker joined Mr. Eamon and Mr. Vincelli at The Thompson Rosemount Group (TRG) in 2005.  TRG was Cornwall's largest engineering firm  when it joined forces with leading Canadian consulting engineering firm Genivar in 2010. After acquiring WSP Group in 2012, Genivar became known as WSP Global in 2014.
"We were all at a point in our careers where we felt that working for a large corporation was becoming too restrictive and confining," says Mr. Baker.  "We also felt that the ability to support our local business and community events was slowly being phased away."
In addition to the three partners, EVB has five staff members. Ken White provides EVB with  Civil 3D and Revit drafting expertise while Josh Goswell is the firm's senior site inspector.  Francois Lafleur, Maxwell Ming and Kevin MacCulloch are civil engineers who round out the team, each specializing in the various aspects of planning, modelling, designing and constructing civil projects.
"Our goal is to provide high quality, efficient, and ingenious design services to our clients, while supporting our local professionals, businesses and community organizations," says Mr. Eamon. "We plan to grow our business organically, by hiring young professionals who are looking to make Cornwall and the surrounding communities their home."
EVB will be hosting an open house in early summer to showcase its new offices. In the meantime, you can reach the company online at:
Categorised in: Business