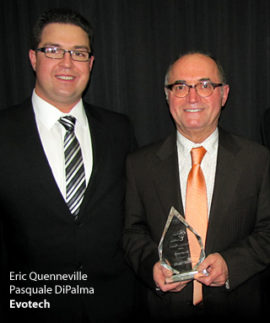 Evotech Wins Economic Impact of the Year
February 26, 2015
Cornwall Ontario – Cornwall's newest manufacturer was singled out recently at the Cornwall and Area Chamber of Commerce Business Excellence Awards.
Evotech was awarded the Economic Impact Award for its recent investment in a new facility on Marleau Avenue in the Cornwall Business Park.
The Economic Impact Award recognizes an extraordinary investment in the community that has a significant positive impact on the economy of the City of Cornwall and surrounding region.
Evotech purchased and has redeveloped a key industrial building in the Cornwall Business Park, and in the process has established a state-of-art manufacturing process that employs 30 people.
"Cornwall has embraced us and it is very much appreciated," said Pasquale DiPalma, Vice-President and General Manager of Evotech. "This award is one that really belongs to the employees."
Evotech is acknowledged as one of the leading Canadian manufacturers of industrial coatings, using strictly controlled manufacturing procedures and an emphasis on research and innovation to remain competitive. The company has been in business for over 25 years, and recently relocated to Cornwall from the Montreal area.
"In business as in life, the key to success is to embrace change and adapt to new opportunities," said Mr. DiPalma. "Our new plant in Cornwall has allowed us to improve our processes and address new markets.
You can learn more about Evotech online:
About the Cornwall and Area Chamber of Commerce
The Cornwall and Area Chamber of Commerce is the unified voice of the region's business community speaking towards growth, leadership and innovation on behalf of 700 members.
The Business Excellence Awards recognizes and celebrates firms and individual who have distinguished themselves by fostering growth, innovation, community service and excellence in their sectors. The awards are selected by committee of peers and announced at a gala event held at the Cornwall Civic Complex.
2015 will be a significant year for the Chamber as the business association marks 125 years of continuous commitment to the community.
For more information, please click on the following links:
Photo by Cornwall Seaway News