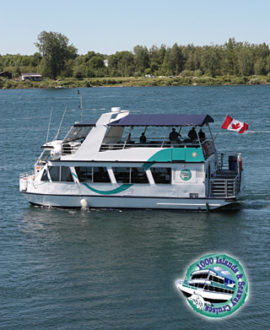 Fall River Cruises in Cornwall from September 18-22
September 9, 2013
Cornwall Ontario – What better way to experience fall colours along the St. Lawrence River than from the river itself? And what better time than the 200th anniverary of some of the most pivotal battles in the War of 1812, all connected in one way or another to the St. Lawrence?
Luckily scenery and history fans will have cause to celebrate as 1000 Islands & Seaway Cruises returns to Cornwall for a week of autumn sailing.
From September 18 to 22, Captain Andrew Neetson and his crew will be sailing out of Marina 200 in Downtown Cornwall, offering 90 minute cruises, twice daily, as well as special two-hour lunch and dinner cruises. Prices start at just $18 for adults and $12 for kids.
"Fall is a great time to cruise the St. Lawrence," says Captain Andrew Neeteson. "We hope local residents, businesses and visitors will seize the opportunity to have some fun and experience a little of the local river heritage."
Cruises take place about the Sea Fox II, a modern 46 ft catamaran that can accommodate 120 passengers on two decks.
The Cornwall cruise winds its way east along Cornwall's waterfront and the local group of islands, sometimes passing in the shadows of ships plying the Seaway Channel. The view of the Cornwall and South Glengarry shoreline is beautiful, as is the view of Akwesasne and the Adirondack mountains to the South. Local wildlife who make their home along the river, such as herons, ospreys and cormorants add to the experience, as does the many local residents who boat and fish on the river.
"Private charters are also available as well as discounted prices for groups on all public cruises," says Captain Neeteson, adding "that the cruises offer a unique opportunity to host corporate and staff functions, family and fundraising events afloat."
Reservations are recommended for sightseeing cruises and are required for all dining cruises and can be booked on-line at www.1000islandscruises.com or by calling 613-345-7333. Advance tickets are also available at the Cornwall & the Counties Tourism Office in Cornwall.
This is the  third year that Captain Neeteson has sailed from Cornwall.