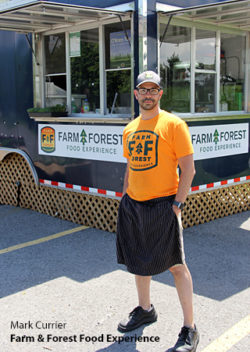 Farm & Forest offers Waterfront Food Experience
May 30, 2018
Farm & Forest Food Experience is open and welcoming foodies at its new food truck in Legion Park. The new eatery is located in the parking lot south of Race Street and Bergeron Drive, just steps from Marina 200 and the scenic Pointe Maligne lookout along the St. Lawrence River.
The new establishment is putting a new spin on the typical food truck experience. The self-described scratch cooking food trailer uses bounty from local farms and forests wherever possible to build the menu and give customers a unique eating experience.
"A lot of times, people are caught up in the speed of life and they don't always take into account what goes into their bodies. They go for the convenience. We want to stress the importance of where food comes from," said owner Mark Currier.
Mr. Currier and his partners Nancy Kelly and Gilles Gagner intend to use locally-sourced items wherever possible, whether it is wild garlic, meat from a local farm and even homemade condiments.
"There's a story to be told (with every menu item)," Mr. Currier adds. "We can tell people what goes into their food."
The menu will change regularly as the seasons, farms and forests change. Some of the current items include a house burger on a homemade brown butter brioche bun, Mariposa Farm pulled pork, a grilled five-cheese sandwich on house bread and braised O'Brien farms short ribs. Soups, salads and, of course, fries and poutine, are also available.
Adding to the experience itself is the location. The establishment is located on a beautiful piece of Cornwall's waterfront, with the lookout at Pointe Maligne serving as a perfect spot to unwind and enjoy a great meal.
"We couldn't think of a better location or a better experience for the people trying the food," said Currier.
Farm & Forest Food Experience officially opens today and the initial hours will be 4 pm to 8 pm on weekdays and 11 am to 8 pm on weekends. The business will eventually move to the longer hours seven days a week.
For additional information on Farm & Forest Food Experience, check them out online:
Additional Information
Planning a visit to Cornwall? Cornwall Tourism can help. Email us at info@cornwalltourism.com to request a copy of our Visitor Guide or contact us at (613) 936-0842. You can also stop by our Visitor Information Centre inside the Cornwall Community Museum (160 Water Street West) in Lamoureux Park.
Follow Cornwall Tourism on Facebook
Follow Cornwall Tourism on Twitter
Categorised in: Business