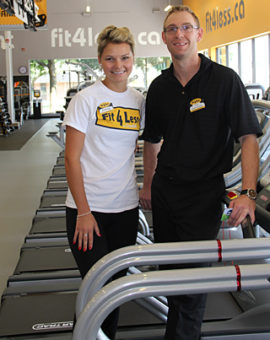 Fit4Less by GoodLife Opens in Cornwall
July 21, 2016
Cornwall Ontario – One of Canada's fastest growing fitness options now has a presence in Cornwall.
Goodlife has opened a Fit4Less Gym at the the corner of Ninth and Sydney in Cornwall. The facility, which measures 790 square metres, will have an initial complement of 6 full-time staff.
Fit4Less members have access to over 100 pieces of cardio and strength equipment and over 100 dumbell weights. The facility includes changing rooms and showers and has both staffed and non-staffed hours.
"We are so excited to have opened our new Fit4Less location in Cornwall," said David 'Patch' Patchell-Evans, Founder and CEO of GoodLife fitness and Fit4Less by GoodLife. "Cornwall is vibrant and active and we think our Fit4Less by GoodLife club will be able to truly provide something for everyone in the community, whether you have been working out for years or are eager to start."
The Cornwall Fit4Less location is also equipped with full body massage chairs and Hydro Massage beds which provide a full body, relaxing massage with water jets, while keeping you completely dry.
There is also a 30-minute Express Circuit, which is a full-body strength training circuit. The Fit4Less Hosts provide an introduction to the Express Circuit for new members to ensure that they are properly oriented to the club and are on a great path to get started achieving their goals.
Members have the option to upgrade their 4Less membership to the Black Card membership for only $10 per month (plus applicable taxes). The Black Card membership gives them access to every Fit4Less location in Canada as well as additional amenities, during staffed hours, like unlimited use of massage chairs, hydro massage, and half-priced drinks.
A feature of the Black Card Membership is that you can share your card with an unlimited number of family members or friends, as long as they are over the age of majority, when you are not working out in the club. Only one person can use the card at a time but multiple people could use it in the same day.
Cornwall Location
The Cornwall Fit4Less is located at 31 Ninth Street East, and can be reached by phone at 613 938-3923.
The facility is staffed Monday to Friday 7am to 10pm, and on weekends from 11am to 4pm. Members can also access the facility during non-staffed times (24/7).
Categorised in: Business