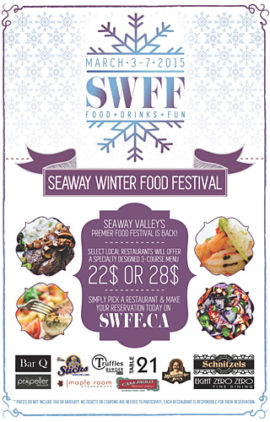 Food Festival Returns To Cornwall Restaurants This Week
March 2, 2015
Cornwall Ontario – "People who love to eat are always the best people" – Julia Child.
The 'best people' have a treat in store for them this week as the inaugural Seaway Winter Food Festival (#SWFF) kicks off on Tuesday.
The five day celebration of Cornwall's vibrant culinary scene features select restaurants offering a specially designed 3-course menu for $22 or $28.
"The #SWFF is founded on the core principle of engaging consumers through a common shared experience," says organizer Sebastian Manigat. "If you ever wondered about a restaurant that you thought might be out of your price range, now is your chance to do so and know exactly what you will be spending."
The low fixed-price menu proved very popular at last years Seaway Summer Food Festival, which exceeded organizer's expectations and saw hundreds of diners flock to some of Cornwall's most popular restaurants.
The #SWFF is offering diners an expanded line-up of restaurants this March:
Bar Q
Casa Paolo
Eight Zero Zero
Moustache Joe's
Propeller
Schnitzels
Table 21
Truffles
Maple Room Steakhouse
Sticks Sports Bar
Easch restaurant has created a special menu for the festival, and many of them have posted details on their own websites.
"Each menu is different, and varies from restaurant to restaurant," says Mr. Manigat. "Every menu is a depiction of each chef's culinary talents and the type of food that restaurant specializes in."
One of the new participants is Propeller Restaurant, which is nestled in the heart of the NAV Centre.  Propeller features a menu created by Executive Chef Luc McCabe, who was recently featured on Chopped Canada.
The concept of a fixed price menu, often called "prix fixe", has become popular with both diners and restaurant owners. The concept offers a certain number of items – usually an appetizer, main course and dessert, for a fixed price. Drinks are not included, and gratuities are extra. Some restrictions may apply. For example, #SWFF menus are available for dine-in customers only and after 4pm.
Reservations are recommended.
For more info and the latest news about the festival, follow these links:
About the Organizers
Born and raised in Cornwall, Sebastien (Mani) Manigat has over 10 years of hospitality, marketing and event management experience. A recent graduate of McGill's MBA program, Mani has also completed the Restaurant Management program at the French Culinary Institute in New York City. BASTION Hospitality was founded in 2014 with a distinct mission: help deliver proven hospitality solutions to its clients.  www.bastionhospitality.ca