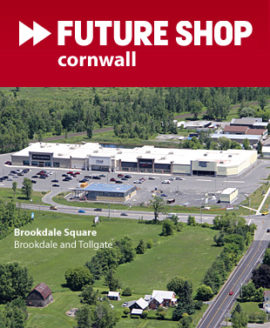 Future Shop Opening New Concept Store In Cornwall
November 3, 2014
Cornwall Ontario – One of Cornwall's most anticipated retail store openings is just around the corner.
Future Shop will be opening its doors November 14, and has planned official grand opening celebrations for Friday November 21st. The official opening celebration will feature Food Network's Top Chef Canada Season Four Winner Chef René Rodriguez and gift cards will be issued to the first 100 customers in line.
The 8,000 sq.ft. store is located at Brookdale and Tollgate.
The Cornwall store will showcase Future Shop's new 'small-format' design concept, one that features more than 3000 sq. ft. of retail space and nearly 4,000 sq. ft. of warehouse inventory.
"We're thrilled to be launching our third small-format Future Shop store in Cornwall. We're reinventing our business to meet the ever-changing needs of the connected customer," said Kamy Scarlett, senior vice president of store operations and human resources. "Our Cornwall store is truly a way of meeting and exceeding the total retail expectations of our customers, and we can't wait to welcome them to experience this new store for themselves."
Future Shop joins existing tenants Winners, Michaels, Sport Chek and Pet Smart at the 10 acre Brookdale Square plaza being built by Villarboit Development Corporation.
"We think Future Shop will be a great addition to our plaza," said Guery Goyo of Villarboit Developments. "We are putting the finishing touches on the Sally Beauty building and continue to work hard to attract new tenants for the remaining space available."
The Cornwall Future Shop represents a revolution of the small-format store that focuses on providing unparalleled integration between in-store and online and a seamless customer experience.
What's in-store: Reserve and Pick-up
E-commerce continues to play a vital part of Future Shop's business, and the Cornwall Future Shop is built with the full capabilities of a large-format store, including areas dedicated to company's trademark Reserve and Pick-Up area – where customers can reserve an item online and pick it up within 20 minutes, guaranteed. This area also allows the new store to continue its evolution to best serve Cornwall customers how they like to shop, including a ship-from-store option in the near future.
Smaller footprint, same breadth of product
The product assortment at the Cornwall Future Shop store will be comparable to a full-sized 30,000 sq. ft. store. A primary assortment of items on the display floor will feature grab-and-go electronics, mobile fitness trackers, an Apple store and a focus on smarthome products. There will also be feature prominent displays showcasing the latest and greatest in technology, including smartphones, tablets small appliances and a home theatre show floor that includes a Dolby Atmos audio demo experience.
Third smaller format store built with sustainable design
Future Shop designed and built the Cornwall store based on both consumer insight from the local community, and following successful small format openings in North Vancouver, B.C. and Brockville, ON. It was constructed based on a sustainable design, including the use of skylights and openings throughout the store to allow natural lighting, as well as lit by energy efficient LED light bulbs.
Designed with a visual layout unlike any other Future Shop store, the Cornwall location will feature an open view to the back warehouse, a modernized esthetic and a creative use of warm colours that all contribute to an inviting shopping experience. Additionally, the store will feature a prominent Geek Squad precinct staffed by Agents who 'service and protect' customers with all their technology needs in-store, in-home and online.
As the November 21st Cornwall Future Shop Grand Opening Celebration approaches, stay tuned to @FutureShopNews on Twitter and visit www.futureshop.ca/cornwall for more information.
About Future Shop
Founded in 1982, BC-based Future Shop is Canada's leading destination for consumer electronics and lifestyle goods. With 135 stores across the country, the nation's premier web store (www.futureshop.ca), and unparalleled customer support from Geek Squad both online and in-store, Future Shop continues to be a leader in Canadian retail.. Through its Future Generation Tech Labs community initiative, Future Shop is proud to connect youth with technology to inspire, motivate, and empower their education.