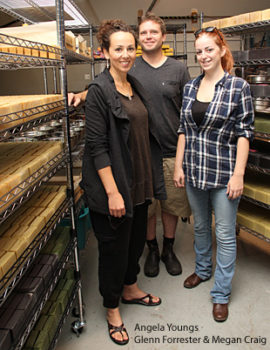 Ground Soap Evolves Into Organic Manufacturing Success Story
October 7, 2014
Cornwall Ontario – Everybody loves a success story – especially when it involves good people doing good things.
Angela Youngs and her partner Glenn Forrester are growing their company Ground Soap and they way they are doing it is quite remarkable.
The couple make a line of organic soaps and skincare products that are becoming increasingly popular in Europe and North America. Ground Soap has just been picked up by the Earthbound Trading Co. and will be featured in 125 stores across the USA. Sales in France and on the company's website are surging and Whole Foods will feature the products at its new Ottawa store when it opens later this fall.
All of this new demand has led the company to move into new, larger premises and double production to 1200 bars of soap per day. It is a far cry from just a few years ago when Angela made soap in her kitchen.
"We have been really fortunate that growth has occurred at a pace that we could handle," says Angela. "We have been able to manage each new phase of our evolution and stay true to our core philosophy."
That philosophy has been to create an ethically and environmentally-friendly business that views business success organically. Only natural ingredients are used in Ground Soap products, and soaps are handmade and wrapped in hand-dyed fabric. Angela and Glenn work hard to form personal relationships with their suppliers and see a role for everybody in the supply chain to succeed.
Soap has been with us for centuries, but as journalist Sarah Hampson recently observed in an article in theGlobe and Mail, sales of liquid soap have surpassed bar soap in North America. This has created a small yet growing niche for craft soap manufacturers, much in the way that craft brewers are now seeing success.
"More and more people are seeing value in products that are made by hand using natural ingredients," says Glenn. "Our soaps have become a staple for people who have embraced a healthy lifestyle, and really help people with allergies or skin problems."
Ground Soap receives the majority of its raw ingredients from around the world. The base oils and butters are brought to a specific temperature and then ingredients such as tea tree oil, lavender, cinnamon and cloves are added by hand. With ten different soaps, and an expanding line of skin care products, the ingredient list is as diverse as it is inspiring.
"We are very fortunate to be located in Cornwall, with a very accessible international border," says Angela. "I don't think we would have been as successful if we had started in another city."
Increasing demand has also meant changes in how Ground Soap operates. Angela remains the face and voice of the company, while Glenn is in charge of production and is assisted by new employee Megan Craig. A new batch system and quality control procedures are in the works, and the young company continues to eye new markets – and new opportunities.
"Our customers are our strongest advocates – and the source of ideas for new products," says Angela. "It's exciting to think where we might be in the future."
About Ground Soap
Ground Soap is a small Canadian company committed to helping people make healthy choices in caring for their skin. The company makes the most awesome soap using the best organic ingredients and amazing blends of essential oils. Find out more online:
Related Articles