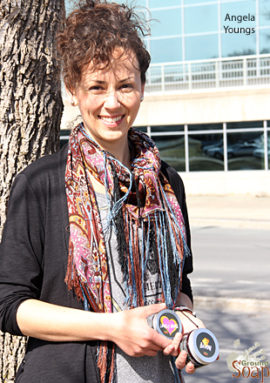 Ground Soap Expands Award Winning Product Line
April 17, 2014
Cornwall Ontario – Angela Youngs has a lot to smile about these days. Her award winning line of natural soaps are a big hit on two continents, and today her company Ground Soap has launched two new products.
"It seems that we have reached a new level, with more orders coming in every day," says Angela. "At the same time, our customers were asking if we had anything other than soap, and now we can say yes!"
Bijou is an organic shea body butter with vanilla and orange. The body butter will nourish and moisturize skin and can be used anywhere on the body without clogging pores and never feels sticky or greasy.
Lovely Bums is a diaper creme without artificial and harmful ingredients that may be absorbed by the skin. It's base is raw organic shea butter which mothers in Africa have been using on their baby's skin for hundreds of years. Grape Soap has added the healing power of grape seed oil and allantoin and the anti-microbial properties of teatree oil.
The new products will follow the company's strict guidelines for natural ingredients and quality and represent an expanded focus on daily skincare.
Primarily a manufacturer, Ground Soap has previously distributed its organic soap products to stores in the health, wellness and fitness sector throughout North America and Europe. To celebrate the launch of the new products, Angela and her partner Glenn Forrester have launched a new website complete with an online store at www.GroundSoap.com
With the addition of the new online store Ground Soap expects to be able to better serve its customers in areas where there are currently no physical stores selling their products.
"We sell best by word of mouth" says Angela. "The goal is to use the new online store to generate awareness, interest and demand for our products in new markets. Then we can more easily find retail locations where the customers are."
The new site will also serve as a test market for new products. Bijou and Lovely Bums represent the first divergence from the popular bar soap line, which Ground Soap launched 4 years ago. Ground Soap will now be unveiling new offerings regularly going forward.
"We wanted our core product of soap to really drop roots and firmly establish our reputation for trustworthiness and quality," says Angela. We feel that we've done that in many places now, and we can leverage that to introduce our new lines."
Ground Soap's products can be found at PURE Esthetics, Dreamland and Life's Little Pleasures in Downtown Cornwall, as well as over 70 other locations in Canada, USA and Europe. The company has been named one of the top Ethical Brands in North America and was previously honoured as Cornwall's Entrepreneur of the Year.
"Angela has proved that small businesses can compete and succeed in today's world," says Candy Pollard, Business Consultant with the Cornwall Business Enterprise Centre. "From the smallest of beginnings to local, national and now international success – the sky is the limit for Ground Soap."
Find out more at www.GroundSoap.com
Related Articles