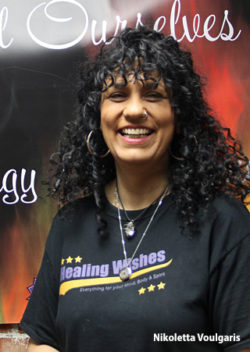 Healing Wishes Opens in Downtown Cornwall
November 7, 2017
Cornwall Ontario – At some point in time in their lives, everybody wishes that they could feel better. One Cornwall business believes that healing is possible for everyone.
Healing Wishes has opened at 239 Pitt Street in Downtown Cornwall, above Total Cyclery. The business is owned by Nikoletta Voulgaris, who is helped out by her husband Ronald Proulx.
Ms. Voulgaris offers a number of services to help people heal themselves including  Reiki, Integrated Energy Therapy, Intuitive Healing, Cord Cutting, Drum Healing, Chakra Balancing, Psychic Readings and more.  Classes and courses are held on a regular basis.
"As people are coming into their spirituality, oneness, awakening, we provide them with  a place where they can feel welcomed and safe to express themselves and share their experiences without feeling awkward," says Ms. Voulgaris.  "We help people learn to believe in themselves and help them understand that they can change their lives and be positive, happy and stress free."
Healing Wishes also maintains a large inventory of items for sale including incense, natural soaps and candles, essential oils, Himalayan sea salt lamps and crystals. Carved wooden buddhas share the shelves with angels, batik prints, tarot cards and books on natural healing.
"We have tried to carry a complete lineup to meet people's metaphysical interests," says Ms. Voulgaris.  "Our customers tell us we are meeting a need, so it is wonderful to know that people don't need to go elsewhere and that they can keep the business local."
Ms. Voulgaris has been in business since 2015. After starting in Ottawa, she opened a location in Ingleside in 2016 before moving to Cornwall and opening the Pitt Street store in September.
"My husband and I just started slowly and through the years started building our business with our own little bit of savings we had put aside," says Ms. Voulgaris. "I found there was a high demand for my services and products and people were very happy with the results."
Ms. Voulgaris chose Cornwall to be closer to her clients. The reception she has received has been very positive.
"Cornwall is a beautiful friendly place and I just love the energy," says Ms. Voulgaris. "Downtown is a perfect location to draw in more business to this beautiful city and I am looking forward to help it expand and grow."
"There is great potential here!"
Healing Wishes is open Tuesday & Wednesday from 10am – 6pm, Thursday & Friday from 10am – 9pm and Saturday & Sunday from 10am – 5pm . You can drop in to the store at 239 Pitt Street or call 613-204-9092.
More information can be found online:
Categorised in: Business