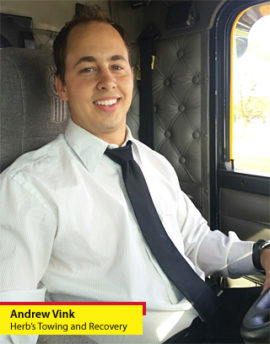 Herb's Towing Strategically Positions in Cornwall
September 18, 2015
Cornwall Ontario – Eastern Ontario is one of Canada's most travelled regions, as it connects Ottawa, Toronto and Montreal with a network of busy highways including Highways 401, 417 and 138. Traffic on Highway 401 alone can reach over 25,000 vehicles per day in the Cornwall area. With all of this traffic, it is inevitable that there will be the odd breakdown.
Fortunately for area motorists, Herb's Towing and Recovery is nearby, having recently acquired a 5 acre parcel of land in Cornwall, just south of the McConnell-401 Interchange.
Herb's Towing and Recovery may be relatively new to Cornwall, but it has been an Eastern Ontario success story for over 55 years and is headquartered in Vankleek Hill. The company prides itself on well maintained equipment and a constantly expanding fleet as well as professional customer service to the motoring public.
"Each incident is unique and requires attention to every detail" says Andrew Vink, Herb's Tow Division Operations Manager. "We strive to help our clients get back on the road as quickly as possible."
The move to Cornwall was a strategic one, adding flexibility and expanded coverage to its existing operations. Not only is the Cornwall facility near Highway 401, it is also in the centre of a rapidly growing hub of logistics and supply chain activities. With several distribution centres in the Cornwall area, the need for a heavy duty towing company is very much a current one.
When it comes to servicing larger trucks and tractor trailers, Herb's is a logical choice. Herb's fleet boasts the largest sliding Rotator wrecker in Canada, an NRC 80-ton, in addition to  one 50-ton sliding Rotator and several heavy wreckers that all work to 'get the job done'. Knowledgeable use of this specialized equipment ensures an efficient recovery which aids in keeping costs down and traffic moving.
Flatbed carriers and conventional wreckers complement the fleet to service to the "lighter" vehicles on the road.
"We strive to offer world class value-added service to the area's logistics and manufacturing sectors, and in the process hope to make Herb's Towing and Recovery the clear choice for all clients in need of emergency help," says Andy Forget, Business Development Manager for Herb's. "Whether you are calling for boosting a dead battery in the parking lot of a local grocery store or have a disabled transport on the 401".
Herb's is an Eastern Ontario success story. Herb Vink Sr. opened his first garage in Hawkesbury in 1957, and later relocated his business to l'Orignal. Realizing a niche opportunity, he began building towing equipment, ultimately selling over 300 custom tow trucks across North America.
In 1977, Mr. Vink built a restaurant, gas station and a towing business at the intersection of Highways 34 and 417. With no other businesses nearby, he captured the business of travellers and truckers who were thrilled to have access to fuel and food on their long journey on the Trans-Canada Highway. It was an ambitious investment that remains successful to this day.
The Vink family is still very much in control of the company, with Herb Vink Jr. serving as President, and his son Andrew acting as the Tow Division Operations Manager. Other family members also hold key positions. Overall, the company employs approximately 100 people, 20 of which work out of the Cornwall operation.
You can reach Herb's Towing by calling 1-888-932-4911 or visit them online at: