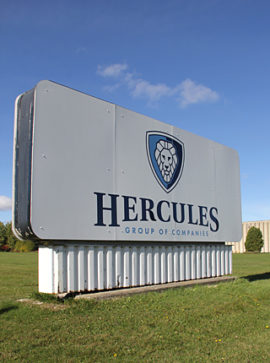 Hercules SLR Establishes Distribution Centre
October 8, 2015
Cornwall Ontario – Hercules SLR will be establishing a central distribution warehouse in the Cornwall area.
The company has acquired the building at 16255 County Road 2 in the Township of South Stormont and will be establishing distribution operations in order to service its branches across the country.
"We began to look at Cornwall about two years ago," noted Chris Giannou, President of Hercules SLR. "Cornwall is strategically located in Central Canada, with excellent transportation linkages. The city is also an established logistics hub, and many of the support services we will require are located here."
Hercules SLR Inc. is a privately owned Canadian company headquartered in Dartmouth, Nova Scotia, with branches located throughout the country. Founded in 1985, the Hercules Group of Companies has grown to 30 locations throughout 8 provinces from British Columbia to Newfoundland. It employs over 350 employees.
The Hercules Group distributes equipment for securing, lifting and rigging applications such as wire rope, chain, rope, safety and fall arrest equipment and related hardware as well as hydraulic and industrial hose and fittings, conveyer belting  and industrial supplies. The company services many industries including Construction, Aerospace, Transportation, Marine, Manufacturing, Fishing, Forestry, Mining and Oil & Gas.
The company has started to ramp up the facility and expects to be fully operational with 10 employees by the end of March 2016.
Hercules joins a vibrant and growing logistics sector in Cornwall that incudes a number of distribution centres, trucking companies and supply chain service providers.
You can find out more about Hercules SLR on its website: