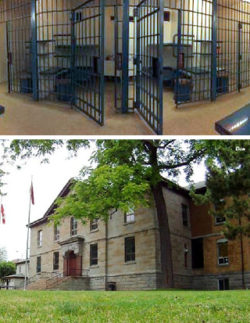 Historic Jail Open For Tours
June 1, 2017
Cornwall Ontario – Visitors to Cornwall can explore the eerie history of the Historic SD&G Jail with guided tours through the summer months.
Tour guides will give guests an interactive and historical journey through the facility, which dates back to 1833. Visitors will be invited to step into a cell to experience life behind bars, learn of an inmate's daily lifestyle, and hear about bizarre ghost stories.
"It's a brand-new program for us and we are thrilled to be able to offer it," said Shauna Baggs, Tourism Coordinator for SDG.
Tour Information
Guided tours of the Historic SDG Jail are available at the following times:
Tuesday – Friday – 10:00 AM – 3:30 PM
Saturday – Sunday -9:00 AM – 1:15 PM.
Admission prices are as follows:
Family (2 adults and 2 youth/2 children) – $25.00
Adults (18+) get in for $10.00
Youth (12-17) get in for $8.00
Children (5-11) get in for $5.00
Children under 5 get in for FREE!
Jail tours will be available on a request-only basis after August 25. The jail is also available to rent for private functions.
Interested individuals and groups are encouraged to call 613-935-4891 to book.  Bookings can also be confirmed via email at jail@sdgcounties.ca.
Escape Room
Visitors looking for a more robust adventure can also sign up for "Escape the Cornwall Jail", an organized by Canada's fastest growing escape room company, Escape Manor.  An escape room has players use elements found in the room to solve a puzzle and escape in timely fashion. Incorporating the fascinating history of the facility, the escape scenario will play off of the true story of the Fenians escape from the jail in 1867.
The escape room is open from Friday to Sunday and requires an online group reservation. To book an escape experience at the Jail, please visit https://www.escapemanor.com/cornwall/booking
About the Cornwall Jail
Built in 1833 on the site of an army barracks used during the war of 1812, the Jail operated until 2002 when the Ministry of Correctional Services closed the facility in favour of newer, larger facilities in major cities. The cell blocks, common areas, exercise yard and visitation area have been maintained as they were when they were populated by inmates sentenced to jail time.
The Jail is located at 11 Water Street West and is part of the main administrative complex for the United Counties of Stormont Dundas and Glengarry. Over the past several years, the Jail has become a popular tourist attraction.
More information can be found online:
Categorised in: Business