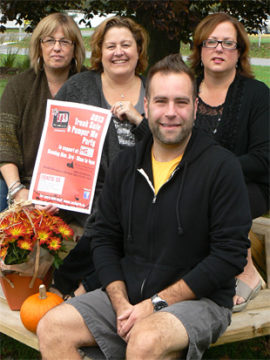 Hundreds Expected For Annual Trunk Sale
November 1, 2013
Cornwall Ontario – This weekend, join hundreds of people at a unique indoor/outdoor bazaar and discover some unique products from some of the region's best merchants.
The popular Trunk Sale and Pamper Me Party will be held once again at Marlin Orchards, located just east of Cornwall overlooking the St. Lawrence River. It all happens starting at 11 am on Sunday November 3rd.
Described as a "relaxed afternoon of open air shopping," this year's event features 70 vendors featuring  wide variety of interesting products and services. Add in some tasty food and live music, and you have a one-of-a kind-shopping experience.
"It's not a craft show, not a trade show – it's like the ultimate shopping day," said Debbie Poirier Burns, one of the events organizers. "It's an opportunity to do some shopping, have a little bite to eat, listen to music, be pampered, spend time with your friends. What more could you ask for?"
At the same time, 10% of every sale goes to support the MS Society. Last year the event raised $15,000.
"There is nothing quite like it in the area," says Karen Torrie-Racine, Volunteer Office Manager with the MS Society.  "There is such a positive community atmosphere that it seems like a nice walk at a country fair where you meet up with good friends."
New this year will be an addition of a food and entertainment tent, featuring local chefs from Bar Q, Dish, The Quirky Carrot, Eight Zero Zero, and Mustache Joe's. Hot apple cider will also be on hand.
For the "pamper me part" of the event, attendees can have nails done, get an up-do, and have their makeup done. There will also be massage therapists on hand.
"The atmosphere is great out at Marlin's," said Ms. Poirier Burns. "There's so much charm about that place. It's a feel good feeling for the whole day."
Details!
The Trunk Sale and Pamper Me Party will be held on Sunday November 3, from 10 am to 4 pm, at Marlin Orchards and Garden Centre, 6864 Orchard Rd. in South Glengarry, just a few minutes east of Cornwall. An ATM will be on site.
"Plan on spending the afternoon, rain or shine" says Nancy Sylvester, one of the organizers.  "Wear your comfy shoes and plan to get your Christmas shopping done!"
Pre-Purchase Tickets!
Tickets ($5) can be pre-purchased at Marlin's Orchards, Love Love Food, Life's Little Pleasures, Echo Trends, and at the MS Society office.
The event is organized by Julie Hickman, Debbie Burns, Tony Lacroix and Nancy Sylvester. For more information, visit
Vendors (Partial List)
Arbonne
OBO Studio (Tracy-Lynn Chisholm & Emily MacLeod)
Frank Burelle
Beyond Clarity
Breathe through my eyes – Kimberley Cameron
Melting Pot Studio
Jennifer DeBruin – author
Be Charmed
Cami Creations
Cathy's Country Crafts
Clarkburn Vegetables
Crazy Fox Studio
Diva's Defined
Royal Custom Carpets
Discovery Lane Kids
Epicure Selections
Farm Ecology
Floorcloths 'n Such
Glengarry Cheese
Nutcrackers
Tasty Alternatives
The Health Nut
Renew
Smooth
Spirit Tree Yoga
Souly Immaterial
Jamberry nails
K Shirts
Knot by Design
Lia Sophia
Life's Little Pleasures
Little Miss Headbands
Little Walker Designs
Love Love Food
Marlins
Once Upon a Robyn's nest
Organics by Julia
Pampered Chef
Pixie Spa Party
Popolo Design
Pretty Little Monkey
Quilted Cabin
Red Wind Studio
Allison Carriere RMT
Mel Gagné RMT
Neo Vintage Furniture
Sassy threads
Shorteez
Signature Homestyles
Silpada
Soc-it tea company
Sparkle & Shine
Squire Shop
Stella & Dot
Steward Bags
Stone Temple Jewels
Sweet Satisfaction
The Vintage Door
Tickle your Fancy
TLC by Bernice
Tricot Treat Imports
Uppercase Living
Vic 56
Wild Oakes
Zumba Williamstown
The above article was written with notes and the use of a photo from Cornwall Seaway News.