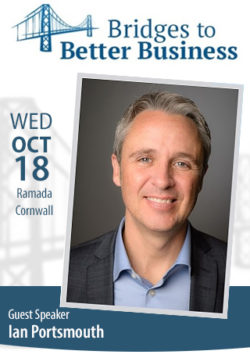 Ian Portsmouth to Speak at Bridges to Better Business
October 17, 2017
Cornwall Ontario – October is Small Business Month in Ontario and the occasion is being marked locally by with Bridges to Better Business, a dynamic, event filled half-day of small business focused workshops, a luncheon, and guest speaker
The Bridges to Better Business event takes place October 18 at the Ramada Hotel. It is being organized by the Cornwall Business Enterprise Centre, the Cornwall Chamber of Commerce and the Cornwall and the Counties Community Futures Development Corporation.
"Ian Portsmouth can draw upon an enviable portfolio of best practices in independent businesses," reports the Business Enterprise Centre's Candy Pollard. "He's been recognized for excellence by such organizations as the Canadian Business Press and the National Magazine Awards Foundation."
Lesley Lang, Executive Director, Community Futures echoed Pollard's comments.
"Along with his award winning profile, Mr. Portsmouth is the former publisher of PROFIT Magazine and he has a well defined pipeline into Canada's fastest growing companies," says Ms. Lang. "We're delighted that he's agreed to join us."
Bridges is focused on the Cornwall area's small business sector.
"These small enterprises are the mainstay of our business sector," says Chamber Executive Manager, Lezlie Strasser. "The workshops and presenters are authorities in their respective fields and will provide participants with both timely and useful information they can use to grow their businesses."
Bridges to Better Business 2017 will follow a similar format to those of previous years, and is expected to attract 100 attendees. Prior to the keynote speakers, a series of workshops will be held in the morning.
The morning workshops include:
Get to Know your Neighbour: Tips for working with Akwesasne
Financial Survival for Entrepreneurs
Cornwall Innovation Centre Support for Small Business
Why are Canadian Businesses Facing a Growing Productivity Gap?
Better Bridges is also an excellent opportunity for business owners to network, share and learn from each other. Interested people can register online with the Chamber of Commerce.
You can learn more about the three organizations organizing the event below:
About the Chamber of Commerce
The Cornwall and Area Chamber of Commerce is the unified voice of the region's business community speaking towards growth, leadership and innovation. With direction from the elected board of directors, the Chamber looks to continuously progress the community through political advocacy, knowledge-based development and innovative opportunities.
About the Cornwall Business Enterprise Centre
The Cornwall Business Enterprise Centre is operated by Cornwall Economic Development in partnership with the Ministry of Research & Innovation. It provides information and support to entrepreneurs during start‐up and growth stages of business operation, in addition to holding a number of seminars and workshops on timely topics.
About Cornwall and the Counties CFDC
Cornwall & The Counties Community Futures Development Corporation (CFDC) is a non-profit development agency, which delivers a wide variety of programs and services to support community economic development and small business growth in the region.
Categorised in: Business