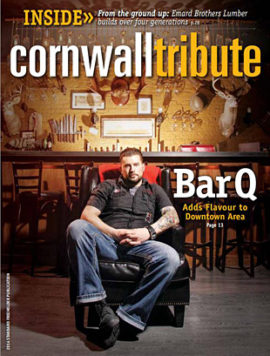 Inaugural Edition of Cornwall Tribute Hits the Newstands
May 26, 2014
Cornwall Ontario – A new magazine has hit the newsstands promoting lifestyles and business success stories in Cornwall.
Cornwall Tribute is a glossy magazine published by local newspaper Standard-Freeholder. The magazine features 44 pages (48 pages cover to cover) of photographs and articles on a variety of topics.
The Freeholder has been publishing an annual magazine since the introduction of the Progress Edition in the early 1990's. The publication has changed significantly from the early newsprint tabloid edition which recapped the previous year's top business stories. The 2014 Cornwall Tribute is also a drastic departure from the 2013 effort entitled In Motion.
"We listened to our readers who wanted more in-depth articles, better photographs and a better overall quality," said Patrick Larose, Cornwall Tribute Creator, Manager & Co-ordinator. "I am happy to say that we achieved our goals on all counts!"
The cover story for the magazine is on Bar Q, a new downtown restaurant which was recently opened by Chef Christian Barque.
"I have been swamped with very positive comments ever since Cornwall Tribute came out," says Chef Barque. "I am grateful for Jason McNamara's great profile picture and to Patrick Larose for having chosen me to take part in this great magazine. It will help to raise the profile on not just only Bar Q, but all of the wonderful things that are happening in Cornwall."
The cover photo was taken by local photographer Jason McNamara of Framed Photography, who also photographed other stories on the Emard Family and Chesley Inn. Other stories in the magazine include an article on Cornwall's recreation trails and bike lines, the redevelopment of the Cornwall Community Hospital and Aultsville Theatre, amongst others.
Cornwall Tribute will have a total circulation of 14,000. You can view the entire magazine online here:
http://virtual.standard-freeholder.com/doc/Cornwall-Standard-Freeholder/cornwall-tribute-2014/2014052301/#0
About the Standard Freeholder
The Standard-Freeholder is Cornwall's daily newspaper and is one of the oldest newspapers in Canada.  The current newspaper began as two publications, the Freeholder, which was founded by the first premier of Ontario, John Sandfield Macdonald, and the Standard. The two newspapers were amalgamated in 1932 and the first issue was published on April 30 of that year. The Standard-Freeholder became a daily newspaper on April 1, 1941. Today, the paper is owned by Sun Media, a Quebecor media company.
More info:
Web: http://www.standard-freeholder.com
Facebook: https://www.facebook.com/standardfreeholder
Twitter: https://twitter.com/StandFreeholder