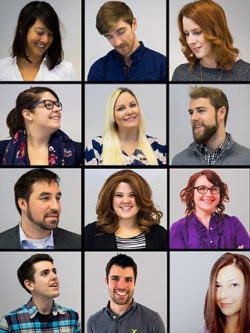 Innovation Task Force to Champion Digital Change
December 21, 2016
Cornwall Ontario – A group of young, forward-thinking entrepreneurs have formed a collective to promote ideas centred on innovation, technology and positive community economic development.
"We realized ideas discussed over coffee need concrete action," said Ryan Seale of SealeProjects.
The Innovation Task Force of Cornwall & Area (ITF) was born.
In September 2016, the group hosted the area's first Hackathon, followed by another in November. The ITF define their "hackathons" as gatherings of innovative thinkers who engage in collaborative projects using technology and creative thinking.  Judges choose the best ideas and cash prizes are presented to the winning teams.  In total, 33 people participated.
"Any recent effort to expose local residents to technology and innovation has been extremely well received," said Kelly Bergeron of Code Heroes. "There is a strong appetite in Cornwall to learn, and we are prepared to step forward and help create new opportunities."
The ITF was also invited by the University Steering Committee—a group credited with helping to bring niche post secondary education programs to Cornwall—to consult on necessary tools and technologies for a potential Makerspace in Cornwall. The proposed Makerspace would give young entrepreneurs a fully-equipped zone where they can create, innovate, prototype and test their products.
As they look to the future, the ITF will work towards the development of additional WiFi hotspots in Cornwall. Several communities in Ontario and across Canada offer free public WiFi coverage in common gathering spots like community parks and business districts. These  efforts position their communities as progressive, welcoming and business-friendly.
The ITF has set a long term goal of providing more opportunities for young innovative thinkers to establish businesses or or find employment in tech-related fields in Cornwall. In the meantime, the ITF continues to refine its mission statement, seeks more fruitful partnerships and further develops its collaborative workspace.
The founding members of the ITF are:
Ryan Seale of SealeProjects
Kelly Bergeron of Code Heroes
Chantal Tranchemontagne of Big Catch Communications
Lesley Lang of Community Futures Development Corporation
Other members include:
Shannon Ferguson of Rhoice Marketing
Alex deWit of the Social Development Council
Penny Rudderham of Royal LePage Performance Realty
Tracy Collins from D2L
Jeremy Baxter from Entelechy Media
Chris Meister from Entelechy Media
For more information:
Categorised in: Business