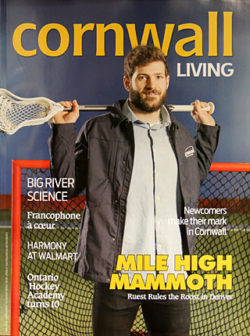 Jacob Ruest Scores Cover of Cornwall Living Magazine
May 30, 2018
Cornwall Ontario – Jacob Ruest may not be a household name in Canada (yet), but the young athlete is turning heads across North America.
The Cornwall native plays for the Colorado Mammoth of the National Lacrosse League and graces the cover of this year's Cornwall Living magazine.  Yet, true to his nature, he seems equally at home helping teach the sport to youngsters in the Cornwall Minor Lacrosse League as he does competing in front of thousands of fans in the one of North America's largest sports markets.
"My job may take me thousands of miles away from home, but I am never far from Cornwall," says Mr. Ruest. "I am very grateful to Seaway News for the article, and I cannot wait to the take the magazine back to Denver to show to my teammates."
The 2018 edition of Cornwall Living marks the 25thyear that the Seaway News has published a magazine celebrating life in Cornwall. This year's edition once again features some amazing stories and photographs, albeit with a new binding that makes the magazine easier to read.
"I love living in Cornwall and telling the stories about people succeeding here," says Rick Shaver, Publisher. "We are very fortunate to be supported by the entire community."
The 132 page magazine includes feature articles on the River Institute, Ontario Hockey Academy, Walmart Logistics, Wonderful World of Whisky Show and Cornwall's new BMX Track – to name just a few. It explores Cornwall Francophone heritage as well as the Mohawk Nation of Akwesasne. A stand out story explores how discarded wrappings from a local soap manufacturer are being used to make beautiful quilts that help raise money for charity.
More than anything else, Cornwall Living profiles the success of individuals in all walks of life.
"It always comes to down to that personal story, the reason behind why people do what they do," says Mr. Shaver. "One of my favorite section of the magazine is Share This, where we share photos taken of people celebrating their achievements – be it in sports, the arts or in business."
Cornwall Living magazine is designed and edited by Colleen Parette, and many of the photographs are taken by local photographers. The magazine has an overall circulation of over 40,000.
Cornwall Living is always a popular addition to the information packages that Cornwall Economic Development sends out to business and residential investors. In addition to trade shows and other efforts, the magazine finds its way to thousands of businesses and government officials in Canada, the United States and abroad.
Get your copy!
A copy of the magazine can be requested by filling out the request form on this website. It is also available at a number of locations throughout Cornwall, including local restaurants, hotels, Cornwall Square, Benson Centre and at the Visitor Information Centre at the Cornwall community Museum.
Categorised in: Business