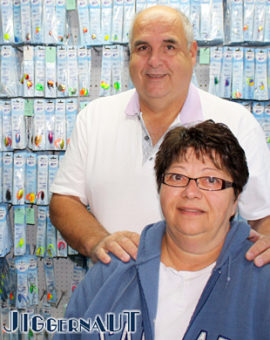 Jiggernaut Lures In Fishing Tackle Boxes Around the World
September 6, 2013
Cornwall Ontario – Bill and Claudette Dennis enjoy fishing, but they don't have a chance to get out on the water that much. They're too busy helping other fishermen land a big catch.
For over 25 years now, the Dennis' have been producing a series of quality fishing lures through their company, Jiggernaut Tackle, right here in Cornwall. In that time, the Jiggernaut name has grown to become a mainstay in fishing tackle boxes across Canada, the United States and other parts of the world.
Jiggernaut products can be found in the fishing aisles of Walmart and Canadian Tire stores across Canada, along with the two Bass Pro Shops located north of the border. Many more are sold through smaller independent retailers across Canada and the U.S. In addition, a growing number of products are sold directly to customers through the Jiggernaut website. On top of all that, Jiggernaut supplies some products to Hagen's, a big name fishing lure manufacturer in the United States.
All told, the company produces over 1 million pieces of fishing tackle per year.
"It's amazing how much we put through in a year," said Mrs. Dennis. "It just keeps growing."
It all started with the simplest intentions. As a child, Mr. Dennis would head to the department store and use the precious money he had to buy fishing jigs. Usually, it wouldn't take long before the jigs lost their shiny colours or fell apart. That experience sparked a desire in Mr. Dennis to start building his own fishing lures, ones that would last longer and produce results. Before long, he was selling his own creations to local vendors.
"It just kept growing and growing," he recalls.
Today, with the help of 20 full- and part-time workers, Jiggernaut produces over a dozen different types of fishing lures ranging from jig heads and casting spoons to spinner baits and worm harnesses, all of which can be used to hunt the likes of walleye, bass, pike, perch and other types of fish.
One of the company's more unique products is the Cornwall Spinner, a local creation with roots dating back to the early 1900s. As the story goes, some workers at the old Courtaulds Mill would use scrap pieces of steel to build the small blade that gives the spinner its name before putting the lure to use on the St. Lawrence River. Mr. Dennis revived and refined the Cornwall Spinner through Jiggernaut, and it remains one of the company's most popular live bait rigs.
Nearly all of the components used by Jiggernaut are created in-house, and the fishing lures are all handmade. A dedication to creating quality lures at an affordable price has helped the company build a loyal following of customers who keep coming back.
"A lot of customers how grown with us over the years," said Mrs. Dennis.
Mrs. Dennis said operating the business in the Cornwall area – with the St. Lawrence River and its world-class walleye, bass, carp and perch fishing just steps away – has proven to be beneficial.
"It's the perfect spot to be," she added.
While the summer months are typically the busiest for Jiggernaut, Mrs. Dennis said the company is busy making products year-round, and a growing number of ice fishing products is leading to more activity in the winter months.
Given the common appeal of fishing and the growing demand for new and innovative fishing products, the future is looking quite promising for Jiggernaut. In fact, the only ones who need to worry are the fish.
"We're going to keep growing," said Mrs. Dennis.
For more information on Jiggernaut Tackle, you can visit the company's website (www.JiggernautTackle.com) or call (613) 932-3474.