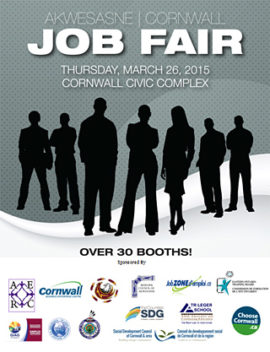 Job Fair To Highlight Opportunities In Cornwall and Akwesasne
March 23, 2015
Cornwall Ontario – Organizers are putting the finishing touches on what promises to be a very productive day at the Akwesasne – Cornwall Job Fair on Thursday March 26.
Some of the region's largest employers will be promoting employment opportunities at the show, including Olymel, Atelka and Scotiabank.
The show is expected to draw hundreds of job seekers to the Civic Complex for the job fair, which is scheduled to run from Noon to 6pm.
"Job seekers can expect to find employers ready to hire," said co-ordinator Stacy Skidders. "People should come prepared to hand in resumes."
The list of employers is a diverse one that includes health care, transporation, customer service and food processing.  It is possible that more companies may be added to the list over the next couple of days. Here are the confirmed private sector exhibitors as of now:
Atelka
Olymel
Twin Leaf
Akwesasne Mohawk Casino
Drake International
Kensington Park Recruitment
Villeneuve Tank Lines
RBC Royal Bank
Swamp's Performance Automotive
Akwesasne Tire Company
Speedway Plaza
Investors Group Financial Services
Royal LePage Performance Realty
St. Regis Mohawk Tribe
International Truckload Services
Avon Canada Inc
Scotia Bank Cornwall Contact Centre
Cornwall Community Hospital
Transport Training Centres of Canada Inc.
Ray-Jans Windows & Doors
Tarbell Management Group
Jacobs Manufacturing
The Miller Group
NuSkin/Pharmanex
Bank of Montreal
Knowledge First Financial
Youth Now Inc.
Organizers are expecting people from beyound the Cornwall region to attend as well as local residents.
"It is important that employers have a diverse pool of labour to draw on," said Mark Boileau, Manager of Economic Development for the City of Cornwall. "Our office is pleased to support this joint initiative that has brought together employers and support organizations under one roof."
In addition to the employers, a number of organziations that provide direct and indirect support to job seekers will also be exhibiting. These include:
Job Zone d'emploi
Eastern Ontario Training Board
Cornwall Business Enterprise Centre
St. Lawrence College
Academy of Learning / Cornwall Career College
University of Ottawa
Mohawk Council of Akwesasne
Ministry of Training, Colleges and Universities
T R Leger Alternative School
GIAG – Glengarry Inter-Agency Group
Contact North
Akwesasne Area Management Board
Akwesasne Employment Resource Centre
Transport Training Centres of Canada
For more information on employment opportunities in the Cornwall area, please visit the Work on Cornwallpage on this website.