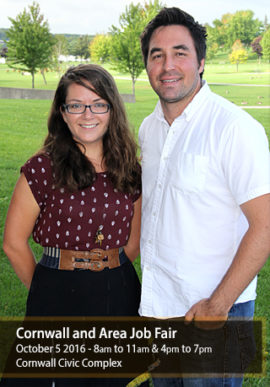 Job Fair to Take Place on October 5
September 8, 2016
Cornwall, Ontario – Job seekers will have a chance to meet employers up close and personal at the Cornwall and Area Job Fair in October.
The Job Fair will be held at the Cornwall Civic Complex on Wednesday, October 5 and is being organized by the Social Development Council (SDC) Employability Network. This event is free and open to anyone seeking employment or volunteer opportunities in Cornwall, Stormont, Dundas, Glengarry, and Akwesasne.
"There are many job opportunities in Cornwall and the surrounding area," says Alex de Wit, Executive Director of the SDC.  "This event will help to showcase what our business community and job market has to offer."
The Job Fair will feature two sessions to allow people with different schedules attend the event:
First Session: 8am-11am
Second Session: 4pm-7pm
Both sessions will feature Cornwall, SD&G, and Akwesasne employers from various sectors including transportation, warehousing, service and sales, retail, hospitality, and social services.
This is the second consecutive year that a Job Fair has been in Cornwall. Last year's event hosted 26 major employers and attracted over 1000 job seekers from across the region.
Frontline FYI
The Job Fair will also include the 10th annual "Frontline FYI", a community service fair for frontline workers and those interested in volunteering in the community.
"Expanding on the success of last year's event, we are excited to include the Frontline FYI as a way for social service agencies to find volunteers who are looking to enhance their work experience," says Mr. de Wit.
Job Seeker Workshops
To help job seekers perfect their resumes and interview skills before the event on October 5, four Job Fair 101 and resume writing workshops have been planned courtesy of JobZone and the Akwesasne Area Management Board.  There is no cost to attend the workshops, but those interested are encouraged to register in advance to secure their seat.
Akwesasne Employment Resource Centre – Tuesday, September 20th, 11am – 1pm
SD&G County Library – Winchester Branch – Wednesday, September 21st, 11am – 1pm
SD&G County Library – Alexandria Branch – Monday, September 26, 11am – 1pm
Cornwall Public Library– Tuesday, September 27th, 11am – 1pm
Booth Registration
Job Fair booths are still available for employers and social service agencies looking to fill part-time and full-time positions for the fall and winter season.   Registration is online and will remain open until September 30.
This event is being organized by the Social Development Council of Cornwall and Area – Employability Network, and sponsored by the Ministry of Community and Social Services in partnership with the City of Cornwall, Cornwall Economic Development, and the Akwesasne Area Management Board.
More Information
For more information and to register, job seekers, volunteers, and employers are encouraged to visit www.sdccornwall.ca/jobfair2016.
Categorised in: Business