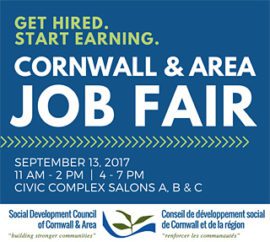 Job Fair to Take Place on September 13
August 2, 2017
Cornwall, Ontario – Job seekers will have a chance to meet employers up close and personal at the Cornwall and Area Job Fair in September.
The Job Fair will be held at the Cornwall Civic Complex on Wednesday, September 13 and is being organized by the Social Development Council (SDC) Employability Network. This event is free and open to anyone seeking employment or volunteer opportunities in Cornwall, Stormont, Dundas, Glengarry, and Akwesasne.
"There are many job opportunities in Cornwall and the surrounding area," says Alex de Wit, Executive Director of the SDC.  "This event will help to showcase what our business community and job market has to offer."
The Job Fair will feature two sessions to allow people with different schedules attend the event:
First Session: 11am-2pm
Second Session: 4pm-7pm
Both sessions will feature Cornwall, SDG, and Akwesasne employers from various sectors including transportation, warehousing, service and sales, retail, hospitality, and social services.
This is the third consecutive year that a Job Fair has been in Cornwall.
Participating Employers
Atelka
Beau's Beer
Best Buy
Canadian Technical Tape
City of Cornwall
Clean All Environmental Services
Contak Staffing
Drake International
International Truckload Services
Kelly Services
Primerica Financial Services
Matrix Logistics
Minimax Express
Morbern
Olymel
ONroute
Pactiv Canada
Paramed
Scotiabank Call Centre
SigmaPoint Technologies
Sun Life Financial
Tim Hortons
United Counties of SDG
Walmart Logistics
Xplornet Communications
…. and more!
Frontline FYI
The Job Fair will also include the 11th annual "Frontline FYI", a community service fair for frontline workers and those interested in volunteering in the community.
"Expanding on the success of last year's event, we are excited to include the Frontline FYI as a way for social service agencies to find volunteers who are looking to enhance their work experience," says Mr. de Wit.
This event is being organized by the Social Development Council of Cornwall and Area – Employability Network, and sponsored by the Ministry of Community and Social Services in partnership with the City of Cornwall, Cornwall Economic Development, and the Akwesasne Area Management Board.
More Information
For more information and to register, job seekers, volunteers, and employers are encouraged to visit http://sdccornwall.ca/jobfair2017/.
Categorised in: Business