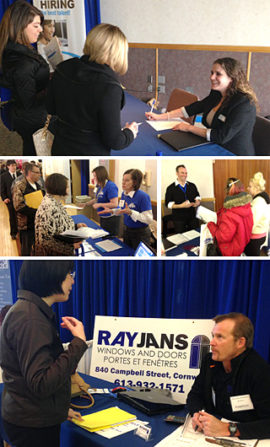 Job Seekers Descend On Job Fair
March 26, 2015
Cornwall Ontario – More than a thousand job seekers descended on the Akwesasne-Cornwall Job Fair today, and dozens more were still arriving at the Civic Complex with more than an hour left to go in the event.
"We have had some very positive feedback from both visitors and exhibitors," said Stacy Skidders, the co-ordinator for the fair. "People are enjoying the opportunity to meet face to face."
Over 30 exhibitors have set up at the Complex, with a mix of employers from both Cornwall and Akwesasne, along with several support agencies such as Job Zone d'emploi, St. Lawrence College, Contact North, and the Akwesasne Employment Resource Centre.
"The attendance has been very good, in fact, an overall better experience than a recent similar event in Ottawa," said Kevin Ceaser of Villeneuve Tank Lines, an exhibitor at the fair.
Employers have been gathering resumes and speaking with job seekers about what types of people they are looking for. In some cases, it is a matter of clearing up misperceptions about what the company actually does.
"We have been able to talk with people about what Atelka actually does, about how we help solve people's problems," said Niki Palmer. "We have met dozens of people today, and it really has been a great recruitment drive for us."
Atelka has added new positions at its Cornwall operations, and is one of several companies in the area that are growing because of new business opportunities. Long lines were noticeable at several of the employers, such as Olymel, Scotiabank and the Cornwall Community Hospital, as well as at booths for staffing companies such as Drake and Kensington Park.
Job seekers were also able to learn how they can enhance their skills with various available programs.
Employment Listings
Available job postings, along with other useful information, can be found on the Work in Cornwall section of this website. New postings are added on a regular basis.