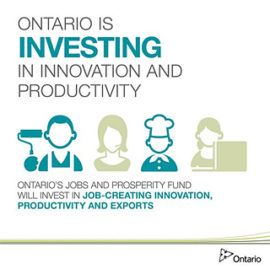 Jobs and Prosperity Fund Encourages Growth in Cornwall and Ontario
February 19, 2015
Cornwall Ontario – Ontario is looking to further stimulate a globally competitive business climate in the province with the Jobs and Prosperity Fund.
"The competition for investment is fierce in an increasingly global economy," said Brad Duguid,Minister of Economic Development, Employment and Infrastructure. "In order for Ontario to remain a top jurisdiction for investment, we must continue to take targeted action that increases our economic capacity. The Jobs and Prosperity Fund will ensure our partnerships with business further increase productivity, drive innovation, and grow our global exports."
The Jobs and Prosperity Fund is providing $2.5 billion over 10 years to enhance productivity, bolster innovation and grow Ontario's exports. The threshold for investment is relatively high, a mininum of $10Million investment is needed ($5 million if the project is in the food & beverage sector).
Consultation with government officials is recommended before a formal application is made. You can get the ball rolling by talking to either Bob Peters or Mark Boileau in Cornwall Economic Development (613 933-0074).
The Jobs and Prosperity Fund has three distinct streams:
The New Economy Stream: to build R&D capacity, improve private-sector productivity, performance and competitiveness, and support innovative businesses in expanding their market.
The Strategic Partnerships Stream: to help entrepreneurs, companies, research institutions, customers and investors work together to strengthen Ontario firms and our ability to compete globally.
The Food and Beverage Growth Fund: to support food, beverage and bioproduct manufacturing projects that will help create and retain jobs, strengthen supply chains, increase market access, and enhance innovation and productivity.
The Jobs and Prosperity Fund will use a strategic investment scorecard to evaluate all eligible projects. For project funding to be approved, companies must demonstrate how they will further increase productivity, bolster innovation and improve their international competitiveness while providing long-term economic benefits for the province and driving job creation.
Quick Facts about the Jobs Prosperity Fund
The Jobs and Prosperity Fund supports the recommendations of the Jobs and Prosperity Council and will help secure anchor investments that help support growth and sustain well-paid jobs in Ontario.
The New Economy Stream will support projects of at least $10 million in eligible costs and will target key sectors such as advanced manufacturing, life sciences, as well as information and communications technology.
The Strategic Partnerships Stream will support partnership projects of at least $10 million in eligible costs and will focus on technologies that have the potential to transform industries.
The Food and Beverage Growth Fund will support food, beverage and bioproduct processing projects across the province with more than $5 million in eligible costs.
More info here: http://ontario.ca/business-and-economy/jobs-and-prosperity-fund
Other Financial Incentive Programs
The Jobs and Prosperity Fund is one of a number of programs that are in place to help Cornwall businesses grow and prosper. Other programs include the Eastern Ontario Development Fund, the Canada Ontario Job Grant and the Eastern Ontario Development Program. You can find more information on the following link: