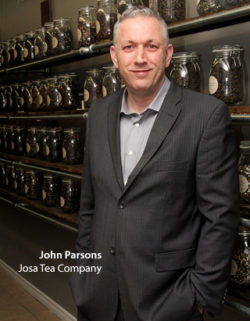 Josa Tea Company Sets Up Shop In Downtown Cornwall
March 6, 2017
Cornwall Ontario – There is a new merchant in town, and they're bringing with them the tastes of the world.
Josa Tea Company has opened a boutique store on Second Street, offering over 120 varieties of loose leaf teas. It is welcome news to those who love a freshly brewed cup of tea.
"We are hearing that a lot of our customers have been longing for a great selection of teas," says John Parsons. "Not only can they now pick it up locally at a much better price but they can see the teas right on the shelves."
Customers can experience the great aromas of exotic tea blends that include green, white and black teas, mixed with other herbs. Many teas come with interesting names that often have an interesting piece of folklore behind them.
After water, tea is the most widely consumed drink in the world. It originated in China and has been popular since before the 2nd century B.C..
The Josa Tea Company offers teas from throughout Asia and Africa.
"We stock only ethically sourced teas from suppliers who have a mandate to give back to their local and wider communities," Says Mr. Parsons.
In addition to the selection of loose leaf teas which can be purchased by weight, Josa also stocks a variety of tea and coffee accessories.
"We plan on adding a coffee roaster in the future and we'll be fresh roasting a number of coffees to purchase by the pound," says Mr. Parsons.  "We are hoping that Josa grows and grows and becomes something of a chain providing tea to smaller communities. Cornwall will always be our flagship store and centre of our operations. We are happy to say that we have already created two new jobs. "
The Josa Tea Company is located at 23 Second Street East and is open for business on Mon-Wed from 10-5; Thurs-Fri 10-9 and  Sat-Sun 10-5. A location in downtown Cornwall was a natural choice.
"There is a lot of foot traffic in the area of the downtown business core and we hope to appeal to not only shoppers visiting the area but to the large number of residents who live and work in the area," says Mr. Parsons. "The community here is also amazing when it comes to supporting local businesses and start-ups."
The website will be online soon and Josa will be providing a full online ordering service, with shipping across the country. Right now people can find them on Facebook:
Categorised in: Business