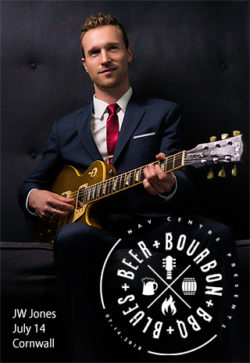 JW Jones to Headline Cornwall's New Beer Festival
May 2, 2018
Cornwall Ontario – Blues star JW Jones will be headlining the Beer Bourbon BBQ and Blues Festival taking place at NAV CENTRE on Saturday, July 14.
"We are very excited to have JW take the stage," says Ian Bentley, Director, Conference Services & Food and Beverage at NAV CENTRE. "He is an artist in high demand and is known for his high-energy show that leaves audiences wanting more. "
JW Jones was born in Ottawa and fell in love with the blues after seeing B.B. King play live. Nine albums later, he has played with many of the world's top blues musicians, leading the Globe and Mail to call him "one of this country's top blues guitar stars."
JW's new release High Temperature was named the Hot Shot Debut on the Billboard Top and is the follow up to the JUNO Award nominated Belmont Boulevard. It was named best self-produced CD at the International Blues Challenge in Memphis.
Joining JW Jones on the festival lineup will be the Gary Cain Band and the Legendary Castaways.
Tickets Selling Fast
Tickets for the festival are proving to be a hot commodity.
"We sold over 400 tickets the very first day they were available, and many have been from out of town" says Mr. Bentley "The response has been amazing."
Tickets cost $15 for the one-day festival and are available on Eventbrite.
Event Info
The event will run from 12 pm to 7 pm on Saturday July 14, with all activities on the outer grounds of the NAV CENTRE overlooking the St. Lawrence River. There will be a full slate of food, drink and music offerings for festivalgoers.
There are 18 breweries on tap to attend – with more to come – and 4 bourbon distilleries.
NAV CENTRE Executive Chef Luc McCabe and his team will showcase their culinary talents with a selection of some amazing BBQ creations.
Out of town guests can stay right on site at the NAV CENTRE.
Fro more event info, click on the following link:
Categorised in: Business