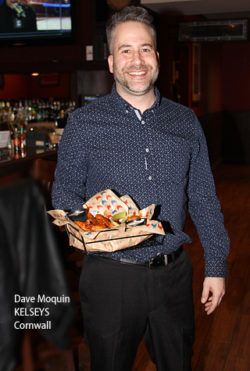 Kelseys Reopens its Cornwall Restaurant
May 11, 2017
Cornwall Ontario – There is good news for fans of good food and cold drinks: Kelseys has reopened its restaurant on Brookdale Avenue.
The popular eatery celebrates its 15th anniversary in Cornwall this year.
"The Cornwall community has been supporters of Kelseys for years," says Shannon Lawler, Director of Marketing for Kelseys. "Our Kelseys team is excited to welcome back our customers."
One of the big changes in Cornwall is the addition of a flat-top grill in the kitchen. The new grill allows burgers to retain juices and more of the flavour.
"We are proud of our roadhouse menu that features 100% fresh Canadian ground chuck burgers, served with Ontario fresh cut fries," says Ms. Lawler. "And don't forget our signature wings, which you can enjoy for half-price every Thursday."
Kelseys took the time during the past several weeks to retrain staff in the new menu, with a special focus on customer service training.
"We value our relationship with our customers and we place a special emphasis on being involved in the community," adds Ms. Lawler. "So if you're in the mood for great food and a lot of fun, be sure to stop by! We look forward to serving you."
Kelseys is located at 960 Brookdale Avenue and is open 7 days a week. You can view the menu online at:
About Kelseys
Kelseys is one of Canada's original roadhouse restaurants, satisfying customers since 1976. It is part of the Cara restaurant family that includes other Cornwall restaurants such as Swiss Chalet, East Side Mario's, and Harvey's. CARA has over 840 restaurant locations and over 50,000 employees across Canada.
Categorised in: Business