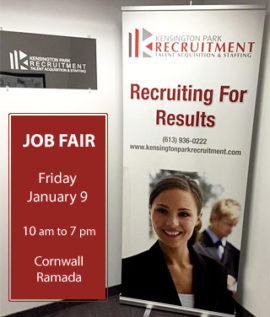 Kensington Park Holding Job Fair January 9
January 7, 2015
Cornwall Ontario – Kensington Park Recruitment will be holding a job fair to meet people interested in working for various companies in the region.
The job fair will be held at the Cornwall Ramada Hotel on Friday January 9 from 10:00 am until 7:00 pm. The job fair is being organized by Kensington Park Recruitment.
All in all, there are over 100 jobs available to be filled.
"January is generally a quiet time of the year for recruitment," says John Parsons, President of Kensington Park Recruitment. "While some of our clients will see things ramp up in a month or so, others are extremely busy right now which means we are in recruitment overdrive."
"It is a great sign but most importantly it means we are able to work with area job seekers and secure great employment for them with one of our fantastic clients."
There are a variety of jobs available, including:
Warehouse Associates
Assemblers
Janitorial
Truck Drivers (AZ and DZ)
General Labourers
"Forklift experience for the warehouse associates is definitely an asset but not strictly necessary," says Mr. Parsons. "AZ drivers MUST have three years recent experience and clean CVOR's and abstracts."
Full training for all jobs is provided.
"We have partnered with a number of local leading employers to help them identify and recruit the best talent in the Cornwall region," says Mr. Parsons. "Just last year alone we recruited close to 800 new employees for local companies and are happy that many are now permanent employees of the companies they were initially hired to go in to as Kensington Park associates."
Mr. Parsons and his staff will be doing on the spot interviews at the job fair. Applicants are encouraged to bring copies of their resumes.
About Kensington Park Recruitment
Kensington Park Recruitment was established in 2013 by John Parsons, who decided to take his many year of HR experienced and create a recruitment agency that would have a different focus on customer service. The company's offices are located in the Cornwall Business Park.
Kensington Park Recruitment is also the only Cornwall based company that is a member of The Canada Company whose aim is to work with veterans of the Armed Forces and those about to retire seek civilian employment.
"It is something we are very passionate about and would like to reach out to any veterans (regular or reserve force) who are in need of help finding employment," says Mr.  Parsons.
"They've served us and now it is our time to serve them."
More info: