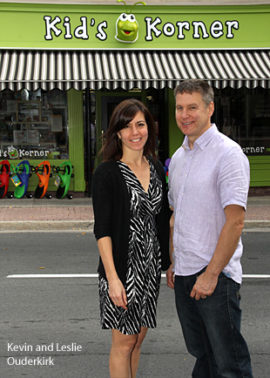 Kid's Korner Named Small Business Of The Year
February 27, 2015
Cornwall Ontario – Kid's Korner is a great example of a main street merchant that continues to buck the odds and thrive in a retail environment dominated by massive international retailers and surging online sales.
The Cornwall based toy store was tagged as "Small Business of the Year" by the Cornwall and Area Chamber of Commerce at the recent Business Excellence Awards.
"Receiving this award is a huge honour," says owners Kevin and Leslie Ouderkirk. "We're thankful to the people of Cornwall who have supported us along the way."
In addition to offering a wide selection of quality educational toys for over 20 years, the Ouderkirks invested a significant sum of money to revitalize their store with a new exterior façade in 2014. In the process, they have created an instant landmark.
"This has been our very best year in business ever," says Leslie Ouderkirk. "We've noticed a lot of new customers with so many people commenting on our new store front…even months later."
The Ouderkirks are not quite finished. Next up is a renovation of the building's basement to allow for more inventory and better organization. They will then tackle renovating the second floor and are mulling over the option of adding more retail space or possibly converting it to apartments.
"We both love being on Pitt Street and living here in Cornwall," says Leslie. "We just can't express enough the loyalty and support the people in this city have given us!"
"Sometimes people just need a little push and some friendly advice to get them inspired. Cornwall is growing in a positive way and we feel we can compete with anybody!"
You can learn more about Kid's Korner online:
About the Cornwall and Area Chamber of Commerce
The Cornwall and Area Chamber of Commerce is the unified voice of the region's business community speaking towards growth, leadership and innovation on behalf of 700 members.
The Business Excellence Awards recognizes and celebrates firms and individual who have distinguished themselves by fostering growth, innovation, community service and excellence in their sectors. The awards are selected by committee of peers and announced at a gala event held at the Cornwall Civic Complex.
2015 will be a significant year for the Chamber as the business association marks 125 years of continuous commitment to the community.
For more information, please click on the following links: