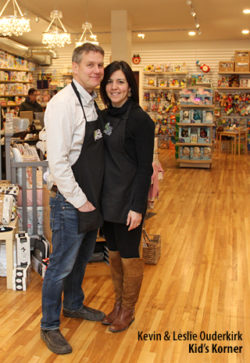 Kid's Korner Opens New Baby Boutique
November 25, 2017
Cornwall Ontario – Cornwall's favourite toy store now offers even more retail space, following a major expansion that has doubled its floor space.
Kid's Korner has opened a new baby boutique on the second floor of their landmark building on Pitt Street.
The new 1500 sf space showcases the heritage elements of the 81 year old building, with a refinished original hardwood floors, interior staircase, large bay windows and exposed brick walls.
"It was our vision all along to celebrate the architecture of the building, and we could not be happier with how it has turned out," says Leslie Ouderkirk, who owns Kid's Korner along with husband Kevin.
The new boutique features baby furniture and accessories, from well known and respected manufacturers like Pali, Natart, JJ Cole, Boon, Gro Company. Customers also enjoy a selection of organic creams, along with bedding from Lolli Living.
By opening the second floor we have also been able to redesign the main floor, create more open space and at the same time display more toys," says Kevin Ouderkirk. Overall, it makes for a better shopping experience."
The Ouderkirks have also increased the full-time staff complement to 4 and have added more part-time positions.
"We would not have been able to do it without the help of store manager Lise Irwin, who is a big part of our success," notes Leslie.
The renovation work was overseen by general contractor Ray-Jans Construction, with contributions from Pecore Electric, Casey Mechanical and Artisan Cabinets.
The Ouderkirks purchased the then vacant building 20 years ago.  In 2014, they completed a major renovation to the exterior. The entire renovation project represents an investment of over $100,000.
The revitalization of Kid's Korner was supported by the City of Cornwall's Heart of the City Community Improvement Plan which has been established to assist property owners revitalize properties within the City's core.
"The transformation of Kid's Korner looks amazing," said Councillor Denis Carr, Chair of the Cornwall Planning Programs Evaluation Committee. "Revitalized commercial properties help attract new residents and new investment to the Downtown and Le Village Business districts."
About Kid's Korner
Kid's Korner is located at 141 Pitt Street in Downtown Cornwall. The store is open 7 days a week. You can reach the store at 613 938-6457 and online via social media:
You can learn more about the City of Cornwall's Community Improvement Plan here.
Categorised in: Business