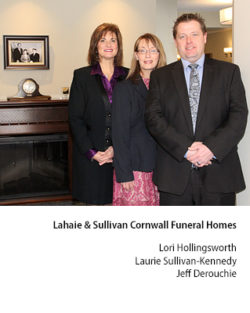 Lahaie and Sullivan Celebrate Major Renovations
March 24, 2017
Cornwall Ontario – The team at Lahaie and Sullivan have moved chairs and furniture more times than they can count over the past few months as they have tried to balance ongoing operations with a major renovation project.
The fruits of their labour will be on display this Sunday March 26th as they welcome the community to an open house at their West Branch location on Seventh Street.
The renovation of the 12,000 sq.ft. funeral home represents an investment of over $300,000. The project included moving walls to accommodate new flooring and new lighting, and creating a new dedicated reception area. New serenity suites and lounges allow for private and more intimate family celebrations of life. Other renovations include a new exterior ramp and other accessiblity improvements, and widespread technology updates throughout the building.
"We invite the community to come and take a look at the new Lahaie and Sullivan," says Lori Hollingsworth West Branch Location Manager. "Every effort was made to create a space that is warm and inviting, where the community can gather to celebrate lives lived."
The renovations to the physical building has also created new opportunities in the digital world. Lahaie and Sullivan now offer WiFi and the opportunity for distant friends and relatives to view the Celebration of Life via an online webcast.
The West Branch facility was originally opened in 1964, and although the building has been renovated in the past and upkeep has been a priority, this latest project represents the single largest investment in the funeral home in many years.
One of the elements of the Open House is is the opportunity for the public to meet Lahaie and Sullivan staff, and learn about the various services and capabilties of the funeral home.
"It is a chance for people to get to know who we are beyond the suit," says Ms. Hollingsworth. "It's also a chance for our staff to get to know our neighbours a little bit better."
Fifty three years ago, John & Claudette Lahaie and Ray Sullivan opened the doors to Lahaie & Sullivan Cornwall Funeral Homes. Upon the retirement of John Lahaie and semi-retirement of Ray Sullivan, the next generation of funeral directors are now being led by Lori Hollingsworth and Jeff Derochie, Manager of the East Branch location on First Street. Together, Hollingsworth and Derochie, offer combined experience of over 44 years, Ray Sullivan's daughter,  Laurie Sullivan-Kennedy, has also joined the team as the Family Services Counsellor.
"With a tradition of trust, honesty and respect, we treat every family like they were our own," says Jeff Derochie.
About Lahaie & Sullivan Cornwall Funeral Homes
Lahaie & Sullivan Funeral Homes serve the Cornwall area at two locations: the West Branch located at 20 Seventh St W and East Branch located at 614 First St E.
You can reach them at 613-932-8482 and on line at www.lahaiesullivan.ca.
Categorised in: Business