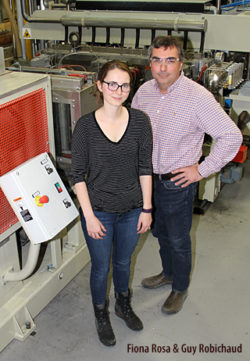 Laminacorr Expanding Facility in Cornwall Business Park
December 18, 2017
Cornwall Ontario – Laminacorr has launched a 3-year expansion program that will result in significant changes for the manufacturer of corrugated plastic products.
Construction has started on a 20,000 square foot addition to Laminacorr's manufacturing facility in the Cornwall Business Park. The new addition will improve production flow and efficiency by relocating equipment that converts plastic sheets into custom-designed boxes and packaging.
Work is also underway to upgrade one of Laminacorr's two extrusion lines. New components are currently being custom built and are scheduled to be installed in 2018.
"Our goal is to become the most advanced company in our sector," says Guy Robichaud, President of Laminacorr. "At the end of this project we will have two state-of-the-art extrusion lines that use the same software platform. It will help us keep production to our strict quality standards."
The investment in the equipment will top $1.5 million and is expected to improve efficiency, product quality and energy consumption.  Further investment will be announced in 2018 to double plant capacity.
The investment in the building will be $1.7 million with work being done by Clermont Rosa Foundations and Bourgon Construction.
"We are fortunate to have excellent local contractors that can help us with the expansion," notes Mr. Robichaud.
In addition to investment in capital works, Laminacorr is also investing in the human resources side of the equation. The company now has management positions devoted exclusively to production and quality control. Mr. Robichaud's daughter Fiona has joined the team and has been accepted in the Growth Driver Program from the Business Development Bank of Canada. The program seeks to provide long-term support and knowledge-transfer to business executives in high impact firms.
"We are positioning everything to transition Laminacorr to a new level," says Mr. Robichaud. "There has not been a lot of innovation in our industry in recent memory. We hope to give back by developing new creative ways of making plastic products."
About Laminacorr
Laminacorr was established in 1998 and moved into its current Cornwall Business Park facility in 2013. Now employing 45, the company has grown to become the largest independent corrugated plastic products manufacturer in North America. The company re-processes scrap and used product, making its processes very environment friendly.
You can learn more about Laminacorr and the products it makes on its website:
Categorised in: Business