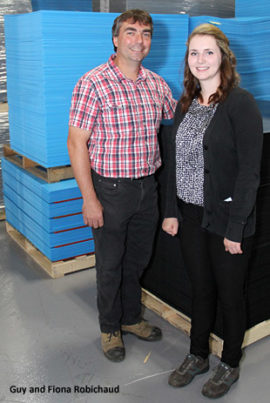 Laminacorr Expands to New Building
July 15, 2013
Cornwall Ontario –  Laminacorr continues to secure new business, and when an opportunity presented itself to move into a standalone building, company President Guy Robichaud jumped on the chance.
Laminacorr has purchased a former 38,000 sq.ft. plastics manufacturing facility on Marleau Avenue in the Cornwall Business Park. Following a well-planned and executed move, the company is back at full operation, producing corrugated plastic products for a variety of uses.
"This new building is ideal for our needs," says Guy Robichaud. "It has an excellent power service, several silos for raw material and the six acre site allows us room to grow in future."
The new facility comes at the same time as a new generation is getting involved in the family-run business. Fiona Robichaud, Guy's daughter, has joined the company. A recent Commerce graduate from La Cité collégiale, Fiona will be helping to explore new markets for Laminacorr, such as the logistics industry. Laminacorr's corrugated plastic products last longer than cardboard, and are easily recycled.
"Our long term vision has changed now that Fiona is on board," says Guy. "We are excited about building something together and taking Laminacorr to the next level."
Laminacorr not only converts and laminates its plastic products for a variety of uses, it also makes its own plastic sheets following the purchase of an extruder a couple of years ago.
"Lamiancorr's key strength lies in its vertical integration," says Guy Robichaud. We engineer corrugated plastic products from conception to final production. We also re-process used product from our customers, making our company environment friendly."
"Laminacorr succeeds in a competitive sector by adding value to the products it produces," says Bob Peters, Senior Development Officer. "Mr. Robichaud is a strategic thinker that has grown his company while others have faltered."
About Corrugated Plastic
Commonly referred to as corrugated plastic or twin wall sheet, FluteCorr® Polypropylene plastic is used in a variety of applications ranging from reusable packaging, agricultural containers, temporary protection board and dunnage, to various types of signs and displays.  Lightweight and durable, it can be easily laminated, converted and printed on.  It is resistant to oil and grease, can be washed and can withstand temperatures ranging from -17F to 230F.  It is 100% recyclable and environmentally friendly.
About Laminacorr
Laminacorr was established in 1998, and now employs 30 people at its Cornwall Business Park facililty. The company has grown to become the largest laminator of corrugated plastic in North America. You can learn more about Laminacorr and the products it makes on its website: