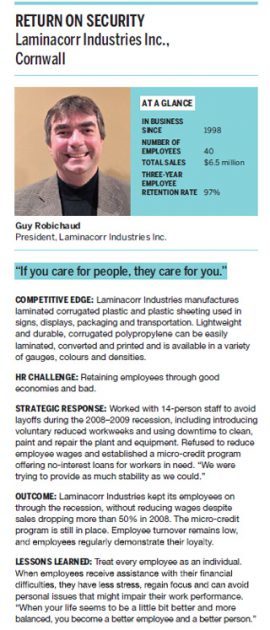 Laminacorr Featured in Influential Ontario Publication
May 2, 2016
Cornwall Ontario –  Laminacorr is gaining some well deserved exposure these days.
The plastics manufacturer is highlighted in the latest edition of the Leading Growth Firms Series, a report published by the Business Advisory Services branch of the Ontario Ministry of Economic Development, Employment and Infrastructure.
The theme of the report is "Return on Culture…Winning the Battle for Talent", and the article explores Laminacorr's holistic approach to protecting its workforce during tough times, so that the company is positioned to take advantage of upswings in the economy.
"When you care for people, they care for you," says Guy Robichaud, President of Laminacorr Industries.
The strategy has worked. In 2008 company officials watched sales drop by 50% due to the global recession. Working with and supporting its employees, the company emerged stronger than ever. The result has been growing sales, a major investment in new machinery and an increase in staff.
"It is a great to see a Cornwall company featured in the publication, which will help give both the company and city more domestic, national and international exposure," says Lynne Groulx, a Senior Business Advisor with the ministry's Business Advisory Services Branch, Eastern Ontario Region. "Guy Robichaud and the entire team at Laminacorr are doing a great job of building and growing a sustainable company."
The Leading Growth Firms Series researches and promotes the effective leadership and management practices of Ontario's innovative high-growth firms. Over 5,000 copies are mailed to CEOs, presidents and owners of high-growth companies across the province and distributed through the ministry's network of senior business advisors located in regional offices across the province, key stakeholder organizations and international trade networks.
The issue featuring Laminacorr is the 24th edition of the Leading Growth Firm series. It is not the first time that a Cornwall company has been recognized for its best practices by the government of Ontario.  In Issue 22, which was published in 2013, Cornwall's Sigmapoint Technologies was  featured in an article that explored the company's commitment to continuous improvement and Lean expertise, resulting in innovative solutions for its customers.
About Laminacorr
Laminacorr Industries manufactures laminated corrugated plastic and plastic sheeting used in signs, displays, packaging and transportation. Established in 1998, the company moved into its current Cornwall Business Park facility in 2013. The company has grown to become the largest laminator of corrugated plastic in North America. The company re-processes scrap and used product, making its processes very environment friendly.
Categorised in: Business