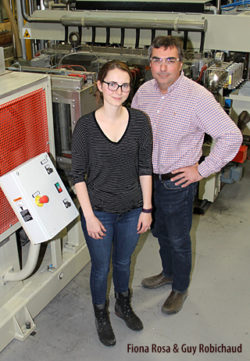 Laminacorr Receives Major Investment From Ontario
April 26, 2018
Cornwall Ontario – Laminacorr is receiving a little help from the Ontario government with its recent expansion program.
The company has received $839,847 from the Eastern Ontario Development Fund, supporting an additional investment of over $6 million from the company. The project will create 12 new jobs, help to retain 44 existing positions and is expected to be completed by December 2020.
"As we expand our production to meet growing markets the assistance of the Eastern Ontarion Development Fund is both timely and very much appreciated," said Guy Robichaud, President of Laminacorr.
Laminacorr is putting the finishing touches on a 20,000 square foot addition to its manufacturing facility in the Cornwall Business Park. The new addition will make room for new shipping area  , third extruder , converting equipment and upgrades to one of Laminacorr's two existing extrusion lines.
"By the end of 2018, Laminacorr's extrusion department will be the most advanced in North America, showing our commitment to become a world class manufacturer of innovative corrugated plastics products," said Fiona Rosa, Office manager.
"Investing in companies that create good paying, local jobs is important to maintaining healthy and vibrant communities," said Jeff Leal, Minister Responsible for Small Business. "Our continued support for regional economic development ensures that we keep companies in their communities and attract investments that help grow the local economy. Investing in our communities, families, and businesses is important for a strong and healthy Ontario."
The most recent investment is part of a 3-year expansion program that will result in significant changes for the manufacturer of corrugated plastic products.
"Laminacorr proves that manufacturers can flourish in Cornwall," says Mayor Leslie O'Shaugnessy. "The Eastern Ontario Development Fund continues to be an effective way to provide support for Cornwall companies as they look to succeed in a competitive global marketplace."
About the Eastern Ontario Development Fund 
The Eastern Ontario Development Fund is helping to create jobs and diversify the economy by encouraging regional businesses to pursue innovation and new markets. The fund covers up to 15 per cent of eligible project costs, with the recipient company funding the remainder from its own resources. Since 2008, the government has committed over $89 million through the Eastern Ontario Development Fund, leveraging total investment of more than $850 million. These investments are helping to support over 18,500 jobs in the region.
Other Cornwall based companies have previously received assistance from EODF. The Province of Ontario has also invested in the construction of a new road in the Cornwall Business Park.
Ontario is accepting applications for the Eastern Ontario Development Fund from qualified businesses that are growing and creating jobs. Sectors eligible for the fund include advanced manufacturing, food processing, life sciences, information and communications technology, tourism and cultural industries.
Since 2013, the Eastern Ontario Development Fund has committed support of over $55 million, helping to create and retain over 10,000 jobs and leveraging over $570 million in total investments.
About Laminacorr 
Laminacorr was established in 1998 and moved into its current Cornwall Business Park facility in 2013. Now employing 45, the company has grown to become the largest independent corrugated plastic products manufacturer in North America. The company re-processes scrap and used product, making its processes very environment friendly
Categorised in: Business