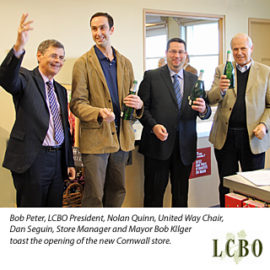 LCBO Toasts Relocated Store In Cornwall
December 10, 2013
Cornwall Ontario –Toasting with Ontario sparkling wine and Ontario craft beer, LCBO today officially opened its relocated store in Cornwall at 1315B Second Street East (Glengarry Square).
The 6,425 square-foot store has 3,725 square feet of display space – more than double that of the previous Pitt Street store – and a selection of some 1,250 wines, spirits, beers, ready-to-drink cocktails, coolers and beverage gift packs including up to 125 vintages premium wines and spirits.
"This relocated store significantly increases beverage alcohol service in Cornwall and provides responsible and convenient one-stop shopping for area residents and visitors," said Bob Peter, LCBO President & CEO. "New and renovated stores like this contribute to higher levels of customer satisfaction and have helped LCBO deliver 19 consecutive record dividend transfers to the province, including an all-time high $1.7 billion dividend in fiscal 2012-13."
Joining Bob Peter for the opening were Cornwall Mayor Bob Kilger and Stormont, Dundas & Glengarry United Way 2013 Campaign Chair Nolan Quinn.
"I'm very pleased to take part in the opening of this impressive new store," said Mayor Kilger. "The LCBO's investment in our community reflects its commitment to providing Cornwall residents and visitors with a wide selection of beverage alcohol, as well as knowledgeable, responsible service."
"We are grateful for the LCBO's ongoing support for the United Way here in Stormont, Dundas & Glengarry. Without their help we wouldn't be able to reach our goal," said Nolan Quinn. "More than 19 local charities benefit from the generosity of LCBO customers and staff, including Winter Warmth, a program to help families meet the financial burden that sometimes comes with paying a hydro or gas bill, and Success by Six that funds activities and programs for kids six years of age and younger."
Among the store's many features are a vintages fine wines and premium spirits section offering up to 125 products, and a large Ontario wine section at the front of the store with more than 160 Ontario wines, including some 50 VQA products. There is also walk-in cold room with over 390 feet of shelving that provides a wide selection of domestic and imported beers and ready-to-drink cocktails and coolers.
"This new store is part of the LCBO's network of more than 635 stores that provides knowledgeable advice and diverse product selection from Ontario and more than 84 countries to the consumer," said Peter.
More Info
● Hours of operation are 10:00 a.m. to 8:00 p.m. Monday to Friday, 10:00 a.m. to 8:00 p.m. Saturday, and 12:00 p.m. to 4:00 p.m. on Sunday.
● This location has a walk-in beer cold room with 390 linear feet of shelving. The cold room offers a wide selection of beers including Ontario craft beers, ready-to-drink cocktails and coolers and is chilled by outside air for much of the year.
● The store has four checkouts, including a customer service counter, and is wheelchair accessible.
● There are eight full-time and part-time employees who can advise customers and licensees on menu and party planning, cellaring wine and stocking a bar. All staff are trained in product knowledge and responsible service.
● LCBO has another store in Cornwall at  Brookdale and Ninth