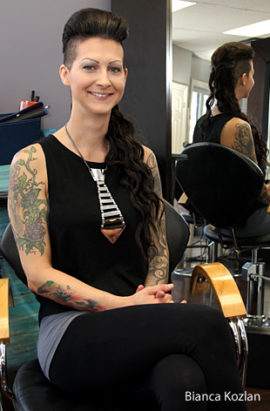 Le Village Welcomes Bianca's Hair Salon
August 29, 2014
Cornwall Ontario – Bianca Kozlan is writing a new chapter in her entrepreneurial success story with the relocation of her business to the Le Village district.
Bianca's Salon is now located at 415 Montreal Road, a move that comes after the salon was first launched just 8 months ago. The salon is now located in a brand new building owned by Peter and Lynn Kenney, and the move is being applauded by Bianca's clients and new neighbours alike.
"The move has been great and clients love the space," says . "Clients are walking in and saying: Wow – I feel like I just walked in to a salon in New York!"
Ms. Kozlan opened the salon after working for over a decade in the business. Her dream of becoming her own boss was helped with assistance from the Cornwall Business Enterprise Centre as well as a growing list of clients that range from 1 to 95 years of age. Today she has a staff of 5 stylists as well as a nail stylist and tattoo artist.
"This is a great addition to Le Village," said Pierre Lefebvre, owner of Marleau Insurance and a strong advocate for Le Village. "Her location is ideal considering growth at nearby St. Lawrence College and the new residences being built at the Cotton Mills."
Bianca's Salon offers hair styling services ranging from child cuts to colour to hair extensions along with associated Redken hair care products. The salon also offers nails created by grand master nail stylist Victoria Hunter, as well as tattoos done by John Locey.
"My concept was a space where artists can enjoy doing what we love to do and meet amazing people while doing it," says Ms. Kozlan. "Victoria and John are amazing talented artists whose work speaks for itself. We support each other and feed off of each other's energy."
As for new trends, Ms. Kozlan notes that bright funky colours are popular right now as are new styles that people may see on celebrities or athletes.
"I always tell clients to wear the hair you are comfortable wearing…confidence makes the hair work!"
About Bianca's Salon
Bianca's Salon is a full service salon with a handpicked team of stylists that can cater to a wide variety of hair wants and needs. 24 hour online booking is available as is WiFi service in the salon and waiting lounge.
The Salon is open Tuesday to Friday from 9:30 am to 6:00 pm and on Saturday from 9:00 am to 2:00 pm.
You can learn more online: