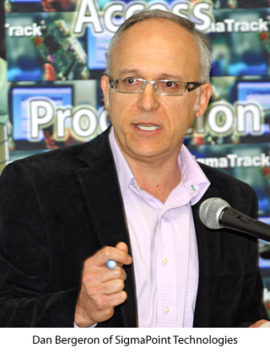 Lean Manufacturing Event Planned for Cornwall May 28
April 26, 2013
Cornwall Ontario – The Ministry of Economic Development (MEDTE) is hosting a breakfast meeting in Cornwall on Tuesday May 28 to discuss lean manufacturing practices. It is part of a series of educational breakfast meetings for Ontario manufacturers in collaboration with the Association for Manufacturing Excellence (AME).
Attendees to the meeting will receive real-world information on best practices that they can adopt in their own companies. Take-aways include:
An appreciation of what's required to be world class today, including current trends and opportunities
Practical knowledge from leaders who are applying Lean thinking to compete and win in 2013 and beyond
Collaborative learning to help your company compete, win and break through to its leading edge
One of the key speakers at the Cornwall meeting will be Dan Bergeron, President of SigmaPoint Technologies Inc. SigmaPoint has adopted LEAN practices, streamlining its operations and increasing its competitiveness by reducing costs, providing improved turnaround times for customer orders and developing products for new markets, including the medical, defence and aerospace sectors.
The meeting is targeted to executives involved in operations, productivity and continuous improvement.
"We expect to attract leaders of manufacturing companies from throughout Eastern Ontario," said Lynne Groulx, Senior Business Advisor with MEDTE. "The Cornwall event will be the only one east of Toronto and we are hoping executives in Ottawa and Kingson and everywhere in between consider attending."
The breakfast meeting will be held at the NAV CENTRE, and will run from 7:30 am to 11:15 am. There is no cost to the meeting, however seating is limited and only manufacturing executives are eligibe to attend.
The meeting is a perfect lead in to the 29th annual AME International Lean Conference being held in Toronto October 21-25, 2013. It is the largest manufacturing excellence conference in the world.
About MEDTE
The Ministry of Economic Development, Trade and Employment supports a strong, innovative economy that can provide jobs, opportunities and prosperity for all Ontarians.
The ministry delivers a range of programs, services and tools to help businesses innovate and compete in today's fast-changing global economy, including business support and youth entrepreneurship programs, strategic investments and international trade and export expertise. Learn more at http://www.ontariocanada.com/ontcan/1medt/en/home_en.jsp.
About the NAV CENTRE
Located on the scenic shores of the St. Lawrence River in Cornwall, the NAV CENTRE is a full service conference centre offering access to 551 guest rooms and 70 dedicated state-of-the-art meeting rooms, spa, fitness centre with indoor pool and an Irish pub with live entertainment. The Centre can accommodate small groups of five to large groups of up to 500. Learn more at www.navcentre.ca.