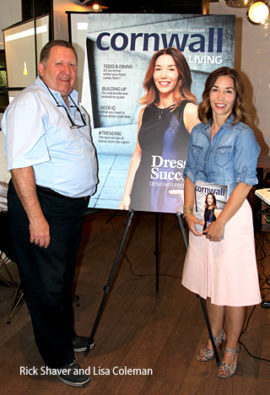 Lisa Coleman Latest Cover Girl for Cornwall Living Magazine
May 27, 2016
Cornwall Ontario – Few people are more connected in Cornwall than Rick Shaver. The publisher ofCornwall Seaway News and former Chamber President is also heavily involved in various community groups. And so, when Rick Shaver gets excited about something, you can bet its something special.
"This year's Cornwall Living magazine is special is so many ways," says Mr. Shaver. "It's our largest ever and we've never had more support from our advertisers. But the true story lies in the stories and images in the magazine itself. There is a real sense of optimism in the City and Counties, and that is reflected in extraordinary accomplishments of the people who live here."
At 132 pages, the 2016 edition of Cornwall Living offers a lot to explore.
Lisa Coleman graces the cover fo the magazine, and while the owner of Rent frock Repeat may not be a household name in Cornwall, her company is well known to over 70,000 clients across Canada. The young entrepreneur is helping change how women view fashion from her home office overlooking the St. Lawrence River.
"I can have my office anywhere , but I choose Cornwall," says Ms. Coleman. "It's exciting to be part of a community that is growing."
Get a Sneak Peek of the Magazine
You can grab a sneak peak at some of the photographs and stories in this short video on the ChooseCornwall YouTube Channel. The video features music from the new album by Roy Nichol:
Cornwall Living dozens of stories about people that are succeeding right here in Cornwall and the Counties. The stories touch on art, dining, sport, volunteerism, business and more.
"It always comes down to people," says Mr. Shaver. "Our neighbours, our friends and family. Cornwall, SDG and Akwesane is blessed to have so many people doing extraordinary things."
One of the popular segments of the magazine to emerge over the past few years is the annual story on the local real estate market. Several developers and real estate companies support the magazine which is often read by people looking to relocate to the area.
"Cornwall offers affordable housing choices which makes it attractive for people in large centres in Toronto, Montreal and Ottawa," says Terry Landon, Broker of Record with Remax Cornwall. "The current market offers a wide range of choices from beautiful waterfront homes to newly built condominiums to single family homes in well established subdivisions."
Other stories in the magazine showcase the ongoing revitalization of Cornwall's Heart of the City, local athletes such as Emily Vallance and Mary Patrick, local entrepreneurs, profiles of St. Lawrence College and NAV CENTRE and a feature on efforts to welcome newcomers to Cornwall.
2015 marks the 23rd year that TC Media- Seaway News has published a quality gloss magazine celebrating life in Cornwall. Last year's edition was judged to be best in Ontario by the Ontario Community Newspapers Association.
The magazine is designed and edited by Colleen Parette. With an overall circulation of over 40,000, the magazine is a collaboration of advertisers, writers, photographers and staff members.
Get your copy!
Cornwall Living is always a popular addition to the information packages that Cornwall Economic Development sends out to business and residential investors. In addition to trade shows and other efforts, the magazine finds its way to thousands of businesses and government officials in Canada, the United States and abroad.
A copy of the magazine can be requested by filling out the request form on this website. It is also available at a number of locations throughout Cornwall, including the Cornwall Civic Complex, Benson Centre, City Hall and at the TC Media offices at 601 Campbell Drive.
Categorised in: Business