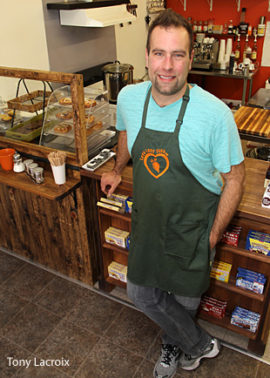 Love Love Food Opens Downtown Cafe and Bistro
June 2, 2014
Cornwall Ontario –  Tony Lacroix loves food, and his customers do too.
It is this shared affinity that led to the name of his business, Love Love Food, and it is the name on the sign above his latest venture, the Love Love Food Café and Bistro in Downtown Cornwall.
"Food has always been a big part of my life," says Mr. Lacroix. "My mom taught me how to cook and bake at a very young age.  Even though it was the basic stuff, it allowed me to have a great foundation when I started to experiment with food creation about 10 years ago."
His experiments led to requests from friends and family for his recipes, and in 2011 he began selling gourmet preserves at local farmers' markets and trade shows. It was at this time that he established the brand Love Love Food. In 2012 he created a small shop on Fourth Street, yet was limited by space.
"Customers were asking for more food and longer hours," recalls Mr. Lacroix. "Moving to the new space has allowed me to do just that but also open up a space where customers could experience eating my creations in a Foodie setting."
The colourful bistro has seating for about 9, and features eclectic furniture from another local business, Neo Vintage Furniture. Patrons can see Mr. Lacroix and his right hand gal Nancy Sylvester hard at work preparing their meals in the open concept kitchen, and at the same time peruse the shelves of Love Love Food's selection of tasty sauces, spice blends and preserves. All of these products are also available online via Facebook or LoveLoveFood.com
Love Love Food specializes in comfort food such as sandwiches, soups and salads, along with a special of the day, such as fish tacos, kitchen sink omelette or a chicken stir fry on saffron infused jasmine rice. Mr. Lacroix has also built up a strong and loyal fanbase for their cakes, cupcakes and old fashion desserts.
"I like adding my own gourmet twist to traditional recipes," says Mr. Lacroix. "Our cannolis, maple sugar pies and lemon curd tarts are quite popular in the city."
Mr. Lacroix also caters for special occasions and takes orders for take-home meals  (many are customizable for dietary requirements like: low sodium, Paleo, Diabetics, Gluten Free and weight loss).
"Now that we have more space we will be offering Cooking and Baking classes, special evening dinners (and a few mores surprises for the fall)."
The Love Love Food Café and Bistro is located at 15 1/2 Second Street East and is open Monday to Friday 8am to 6pm (till 7pm on Thursday) and Saturday from 8am to 1pm.
Mr. Lacroix is also featured in the 2014 edition of Cornwall Living magazine. Click here to order your free copy!