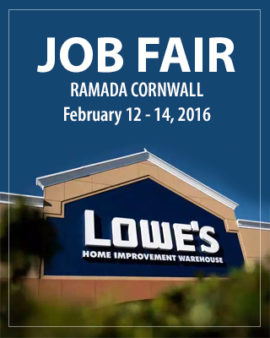 Lowe's Looking to Fill 130 Positions
February 11, 2016
Cornwall Ontario – Lowes will be holding a job fair at the Ramada Hotel in Cornwall this weekend.
The company will be looking to fill 80 permanent positions as well as 50 seasonal positions.
"We are hoping to meet as many people as possible over the three days," says Kevin Ronse, Human Resources Manager for Cornwall Lowe's.
"Job seekers are encouraged to bring along a copy of their resume."
Lowe's will be hiring for a variety of positions throughout the store, including Department Managers, Sales Specialists, Overnight Stockers, Loaders, Cashiers, Head Cashiers, and Customer Service Associates. The hours for the job fair are as follows:
Friday, February 12th – 10-5
Saturday, February 13th – 12-7
Sunday, February 14th – 10-3
In addition to the job fair, job seekers can also apply directly online. A link to the online job listings can be found in the Jobs in Cornwall page on this website.
In September 2015, Lowe's announced that it would open a new home improvement store in the Brookdale Centre shopping plaza on Brookdale.  The popular shopping destination is already home to several retailers, including Food Basics, LCBO, Play It Again Sports, Furniture Village, Scotiabank, Tim Horton's, Scores and Kelsey's.
The Cornwall store is expected to open in the first half of this year and will have approximately 100,000 square feet of retail sales space, with an adjacent garden centre of approximately 13,000 square feet. It will offer approximately 40,000 in-stock products to help customers build, improve and beautify their homes.
About Lowe's
Lowe's is a home improvement company serving approximately 16 million customers a week in the United States, Canada and Mexico. With fiscal year 2014 sales of $56.2 billion, Lowe's has more than 1,845 home improvement and hardware stores and 265,000 employees. Lowe's opened its first stores in Canada in December 2007 and now operates in 42 stores in Ontario, Alberta, Saskatchewan and British Columbia with more than 6,000 employees.
Categorised in: Business